National Museum Cardiff to show £50m Titian painting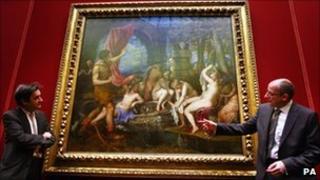 A £50m painting, described as one of the most significant public purchases of art in recent years, is to go on display in Cardiff.
Diana and Actaeon by 16th Century artist Titian, will be shown at the National Museum next April as part of a tour.
It was acquired after two years of fund-raising in Scotland in 2009.
Anne Prichard from the museum described Titian as the greatest artist in Renaissance Venice.
She said: "We will be delighted to host such an important and beautiful painting here in Cardiff.
"Diana and Actaeon is probably the UK's most significant public purchase of art in recent years.
"It will be a fine complement to the historic art collection during its stay here."
It will be displayed in Cardiff between 19 April and 17 June 2012 as part of a UK tour that takes the work to galleries where it has never been seen before.
The work was bought from the Duke of Sutherland after a fund was set up to acquire it.
The painting by Titian - full name Tiziano Vecelli - was created for King Philip II of Spain and has been on public display at the National Galleries of Scotland in Edinburgh and London for more than 200 years.