More midwives needed for baby boom in Wales, claims RCM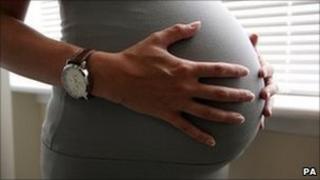 More midwives are needed to keep up with a baby boom in Wales, according to their professional body.
The Royal College of Midwives (RCM) says an extra 10% - 136 more midwives - is needed to cope with rising demand.
The warning comes a day after the Welsh Government published its maternity strategy, including a broader educational role for midwives.
The government said it was "surprised", with the RCM saying last week there was no problem with midwife numbers.
Helen Rogers, RCM director for Wales, said: "The steep birthrate rises of recent years have overtaken us."
The RCM told BBC Wales that live births in Wales had risen by 19% since 2002 to nearly 36,000 in 2010.
It said midwife numbers had kept up with the birthrate rise for most of the period before falling by 9.6% in the last two years to the equivalent of 1,196.1 NHS midwives, resulting in a shortage.
Ms Rogers said: "Wales has done really well to maintain midwife numbers, but the steep birthrate rises of recent years have overtaken us.
"These figures represent shortages in our maternity services that need attention. Each single number is a midwife that should be there caring for women and their babies, but isn't."
Meeting demand
The RCM's claims of a shortage of midwives is disputed by the Welsh Government.
A spokesperson said: "We are surprised at these comments from the Royal College of Midwives who, only last week, stated that Wales did not have a problem with midwife numbers.
"The number of midwives trained is based on what the NHS determines it will require to meet future demand.
"Since 1999 there has been an 11% increase in the number of midwives in Wales, and midwifery staffing was not identified in the 2011 Workforce Plans as either a recruitment or a retention issue."
The warning comes after health minister Lesley Griffiths announced a strategy to improve maternity services by focusing more directly on the needs, health and well-being of mothers and their babies.
It includes a proposal for midwives to carry out a broader educational role, although opposition parties claimed the strategy masked a Labour administration plan for centralisation and cuts in local maternity.