Arriva Trains: Fare rise in Wales 2% lower than England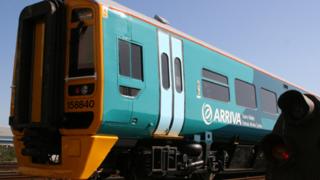 Many rail passengers in Wales will see fare increases of around 6% next year, 2% below those in England, BBC Wales has learned.
The Welsh Government has told Arriva Trains Wales it can increase prices by 1% above the inflation rate.
Last month the UK government announced an average increase in England of 3% over inflation.
The Welsh Government said the 6% rise was the best balance for both the tax payer and the rail passenger.
But the 8% rise will still apply to travellers using cross border First Great Western and Virgin Trains.
Welsh Transport Minister Carl Sargeant has the discretion to decide by how much fares should rise for passengers with standard day single, return or seven day season tickets on Arriva services which either run, start or finish in Wales.
In a statement Arriva Trains Wales said: "The Welsh Government has confirmed that there is no change to the regulation applicable to rail fare increases within Wales.
"The overall change to regulated fares in Wales will be an increase of (Retail Price Index) RPI plus 1%."
The company said it would not impact on its planned level of investment in services.
Tony Miles, from Modern Railways magazine, said the decision was good news for Welsh commuters but it would impact on the Welsh Government's budget.
He said: "This is a policy decision by the Welsh Government, which is very much in line with their outlook that the burden of financing public transport should fall more on taxpayers centrally than on the individual passengers.
"Challenging times"
"Scotland take a similar view, which rather leaves England out on a limb.
"The UK Government wants to shift the cost of the railways more away from taxpayers and towards users.
"This is good news for Welsh commuters and they will notice the difference."
In Scotland, Scotrail's fares will also rise only by inflation plus one per cent next year.
The UK Government said that fares in England will rise by inflation plus 3% for each of the next three years.
A spokesman for the Welsh Government said Mr Sargeant's decision only applied to next year's fares only at this stage.
In a statement it added: "We feel that the decision to allow regulated rail fares to be raised by RPI+1% for next year is the best balance for both the tax payer and the rail passenger in what are very difficult and challenging economic times."
"The Welsh Government strongly encourage the use of rail and will continue to promote its use as a sustainable mode of transport."