Sean Allen's 21 marathons in 21 days in friend's memory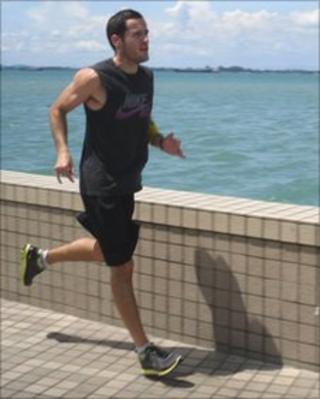 A teacher is running 21 marathons in 21 days following the death of one of his best friends from a brain tumour.
Sean Allen, 28, from Cardiff, who had never even run a half-marathon previously, is raising funds for his friend's 11-month-old son Alexander.
Andrew Mills, who lived in Milton Keynes, fought a long battle against illness before his death this year.
Mr Allen, who moved back to the UK from Australia for the challenge, began his first marathon in Cardiff on Friday.
"Andrew was diagnosed with a third tumour and he lost the use of the left hand side of his body and needed a wheelchair and stair lift," he said.
"I was initially going to run to raise money for that, but never got the chance to tell him [before he died].
"I wanted to do something for his family. If I was in that position I would want someone to make sure my wife and children were supported and had the best start in life."
Feeling confident
Cash raised will be put into a trust fund for Mr Mills' son Alexander, who was five months old when his father died.
Mr Allen, who had been teaching in Sydney, has been training for six months for the marathons, which will cover a total distance of just over 550 miles (885km).
"Training has gone really well. There's been a few dark periods when I was pushing it too much and my knees went and wouldn't let me do any more," he said.
"I've been joined by lots of people who I've never met before. I've got about eight or nine people I've trained with at different times."
Most of the marathons will be run in south Wales but he has also planned to take on the London Marathon course and a couple around Loughborough University, where he became friends with Mr Mills.
Although Mr Allen had never even run a half-marathon previously, he managed to complete back-to-back marathons in training and is feeling confident.
"The support I've received has been overwhelming," he said.