Welsh mine deaths: Rescuers talk of Gleision tragedy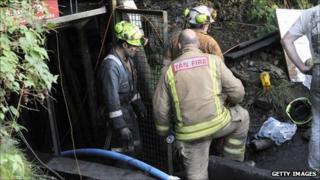 Rescuers have been recalling the moment they learnt a fourth miner had died in a Swansea Valley mine.
Despite a massive search and rescue operation, the four men died when Gleision Colliery, near Pontardawe, flooded on Thursday morning.
Chris Margetts, of Mid and West Wales Fire Service said rescuers felt "sorry that we just couldn't bring them home".
Mark Tibbott, from the Mines Rescue Service, said "all our hearts sunk" when they heard the news.
He said: "When we heard that the fourth person had been found, obviously all our hearts sunk.
"All along in my eyes, it was always a search and rescue operation and we kept driving ourselves forward.
"But then after 36 hours on site all my energy suddenly sunk..."
Phillip Hill, 45, Garry Jenkins, 39, David Powell, 50, and Charles Breslin, 62, died after they became trapped in the flooded mine near Pontardawe on Thursday morning.
Three miners managed to escape as flood water engulfed the mine's shaft when a retaining wall holding back a body of water underground failed.
One was taken to Morriston Hospital in Swansea, where he has remained, while the other two joined the rescue effort.
'Hope and optimism'
Firefighter Chris Margetts said he and other rescuers tried to remain positive, and kept worried family members updated during the operation.
He said: "We were taking the opportunity that morning to go and speak to the families and explain - on the back of serviettes or whatever was there in the community room - to the families exactly what we were doing, which areas of the mines we searched, where we still believed there could be miners safe and sound within the mine, and we were trying to get to those areas.
"So we took personal responsibility to update the families ourselves, exactly what we were doing at all times, so that they were aware of the realities of the situation and also the hope and optimism that we still had at that time."
However, by Friday afternoon came the news that all four miners had died.
Mr Margetts added: "You've got a job to do, you've got something to focus on.
"It's the quiet moments of reflection afterwards I guess, which will affect anyone - it doesn't matter how big and tough you are.
"We're all compassionate, we all do this because we care about people.
"It's terribly sad. Our thoughts are with the families all the time, so you look at what they're going through and it's just, I'm sorry that we just couldn't bring them home..."
The incident began on Thursday morning when emergency services were called to the drift mine at Cilybebyll.
Water blocking the miners' exit was pumped out of the mine, and oxygen pumped in, but when divers moved into the mine on Friday the body of Mr Jenkins was discovered at the bottom of the main shaft.
Mr Powell was found at lunchtime, believed to be close to where he was working.
Police confirmed during Friday that the remaining two bodies, of Mr Hill and Mr Breslin, had been discovered.
A Week In Week Out special on the tragedy will be shown on BBC One Wales at 20:30 BST on Monday 19 September.