Welsh mine deaths: Phillip Hill Gleision family tribute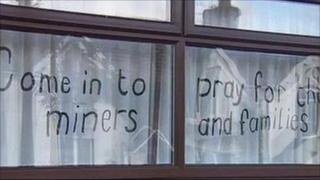 The family of one of the four miners who died in a Swansea Valley colliery have been to the mine to pay tribute.
Phillip Hill, 44, died in flooded Gleision Colliery near Pontardawe along with colleagues Garry Jenkins, 39, David Powell, 50, and Charles Breslin, 62.
The family added three floral tributes to others already left at the scene, pausing to comfort each other.
An inquiry has been announced into the cause of the tragedy.
Mr Hill's daughter Kyla also laid a bunch of flowers with a card, which read: "Hi dad, I love and miss you forever. Love you all the money in the world and America. From Kyla x"
Another card from the family said: "Thank you for being part of our lives. Our girls will be safe with me. Miss you always. Donna x Meg"
The family also left a third bunch of flowers. The card said: "Phil, Kyla and Meg are in good hands, so sleep tight. Love Sadie and Brett xxx".
Among the other people leaving tributes to the four men were the widow and daughters of a miner killed underground in a previous tragedy: Alan Jones, who was killed in Blaenant Colliery, Crynant, in 1976.
On their card they wrote: "To the families of miners lost. May you find courage and strength over the coming days, months and years ahead."
Earlier, safety experts promised lessons would be learned from the investigation.
The Health and Safety Executive (HSE) said it was too early to know what caused the mine shaft to flood with water on Thursday.
Police have now formally identified the men who died and the order in which their bodies were found.
Mr Jenkins was found first, followed by Mr Powell, Mr Hill and then Mr Breslin. Mr Hill was from Neath and the other three men were from the Swansea Valley.
Three miners escaped as flood water broke through a retaining wall. Two joined the rescue effort, but a third, Malcolm Fyfield, was injured and taken to Morriston Hospital, Swansea.
Welsh Secretary Cheryl Gillan has announced the inquiry will initially be led by South Wales Police before it is handed over to the HSE.
In a joint statement, the HSE and Wales Office said it was too early to give a possible cause.
HSE specialist mine inspectors are on site working closely with the police.
An appeal fund has been launched to raise money for relatives, with local MP Peter Hain tweeting shortly before 17:00 BST that more than £10,000 had been raised so far.
'Support and sympathy'
Earlier in the day a miners' remembrance tribute was held at the church hall in Neath Road, Resolven.
The Reverend Peter Lewis, vicar of the Vale of Neath parish, said people would continue to gather to light a candle, pray and leave a message of support and sympathy.
He said the public levels of support were a "massive" help to the families of the miners.
Organisers of sporting events across the region are among those paying their respects.
On Friday a minute's silence was held at the Glamorgan cricket ground in Cardiff, where England faced India.
Swansea City FC held a minute's silence before the team's home Premier League match against West Bromwich Albion.
The Ospreys said their players would wear armbands at Saturday's game in Treviso, as did the Llanelli Scarlets at their match against Munster.
A tribute will also be arranged for the Ospreys home game next weekend, and flags at Parc y Scarlets are at half-mast.
Speaking at the Rugby World Cup in New Zealand, Wales assistant coach Rob Howley said: "This tragedy has shaken all of those who are involved in the national team."
'Flood water'
The investigation will look at exactly what happened, but mining experts said operating near old workings which contain water was always a hazard.
The incident began at 09:15 BST on Thursday when emergency services were called to the drift mine at Cilybebyll.
Three miners had managed to escape as flood water engulfed the mine's shaft when a retaining wall holding back a body of water underground failed.
One was taken to Morriston Hospital in Swansea, where he remained overnight, while the other two joined the rescue effort.
Water that was blocking the miners' exit was pumped out of the mine, and oxygen pumped in.
But when divers moved into the mine early on Friday the body of the first miner was discovered at the bottom of the main shaft.
The second man was found at lunchtime, believed to be close to where he was working. Police confirmed during Friday that the remaining two bodies had been discovered.