Welsh Mine Rescue: 'Industry needs more work on safety'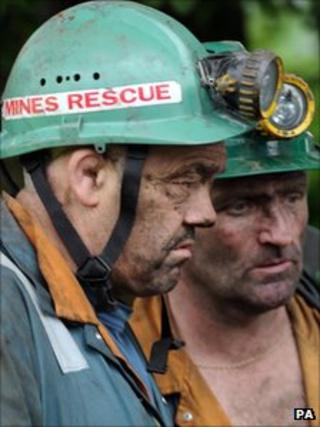 A mining industry specialist said more needs to be done to improve safety in the business.
Dr Anthony Hodge was speaking before it emerged a third body has been found in a flooded Swansea valley colliery.
One other man is trapped 90m (295ft) below Gleision Colliery, near Pontardawe, as rescuers work to find him.
Meanwhile, mine rescue specialist David Seath says the most important tool for the mine rescuers is patience.
Dr Hodge, from the International Council on Mining & Metals which represents companies and associations, said: "Right now, of all the things facing the mining industry whether it's management, the workers, organised labour, and government, there is a tremendous emphasis on developing a culture on safety.
"Yes, there's no question that more needs to be done. The ideal is zero harm and zero accidents. And yes, we have a ways to go before we get there."
Neath MP Peter Hain said the area employed a lot of miners as its valleys and mountains are rich in anthracite.
"It's a source of highly paid and skilled and much needed work but, at the same time, it comes with a lot of danger," he said.
It is not yet known which of the four missing men have been found.
They are: Charles Breslin, 62; David Powell, 50; Garry Jenkins, 39; and Phillip Hill, 45.
Rescue plan
Mine rescue specialist David Seath describes such rescues as "painful and frustrating" for the rescue workers, as well as the families of the miners involved.
Mr Seath, former head of the UK Mines Rescue Service, said the rescue workers will be "desperate" to get to the trapped man.
"But possibly the most important part of their training will be to take their time and not let their hearts rule their heads," said Mr Seath who is also the secretary of the Mining Institute for Scotland.
"The first thing they'll have done will be to have made as extensive assessment of the situation as possible; and the descriptions from the survivors will have been crucial in that respect."
Three other miners managed to escape as the flood water engulfed the drift mine when a retaining wall holding back a body of water underground failed on Thursday.
Two have been assisting rescuers while a third is in Morriston Hospital, Swansea.
Mr Seath says that the rescuers at Gleision will have trained for such circumstances in tunnels and obstacle courses at the bottom of swimming pools.
They will have been taught to explore the environment and identify possible hazards, as much by touch as sight.