Welsh generosity helps Size of Wales rainforest drive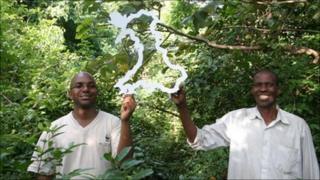 People in Wales are doing their bit to help preserve rainforests in east Africa from deforestation.
Donations are funding a raft of projects in a wider campaign to save an area of forest equivalent to Wales - in a campaign called Size of Wales.
The campaign is driven by Cardiff-based charity The Waterloo Foundation.
Two representatives have visited projects started by WWF Cymru to defend trees from illegal logging and fight for land ownership rights for locals.
The WWF project area extends through Somalia, Kenya, Tanzania and Mozambique, as well as some offshore islands.
The Size of Wales scheme is being funded via The Waterloo Foundation, which donates grants to organisations in the UK and worldwide, and runs a forests programme targeted at avoiding deforestation in tropical areas.
Steph Stares and Nia Sterling from the foundation have returned from visiting the area and WWF Cymru projects in the Kwale district in Kenya.
Miss Sterling said: "The coastal forests are so important for absorbing carbon, which is why we helped set up the Size of Wales project, protecting forests like these.
"They are home to an incredible number of species of wildlife - we saw giraffes, buffalo and elephants in just one afternoon.
"It's vital that people give their support to initiatives like this that offer practical and appropriate solutions for avoiding deforestation."
The pair said the trip highlighted the threat facing the forests.
Ms Stares added: "There's a lot of pressure on the forests for development so it was heartening to visit some of the projects which help create jobs and generate income in a sustainable way, protecting the forests.
"We went to the Gazi Women Mangrove Boardwalk project - it's an eco-tourism project where tourists can have a guided tour through the mangroves, so protecting nature and helping the local economy.
"We also saw some of the tree nurseries supported by WWF. These help local people produce the timber they need, without further damage to the natural forests and wildlife."
So far the WWF Kwale landscape project has resulted in the planting of over 400,000 tree seedlings and sustainable projects to help local families earn an extra $65,000.
These initiatives include eco-tourism, sale of honey and herbal products.
David Tanner, WWF programme manager for coastal east Africa, said: "Many coastal forests have already been destroyed and only small fragments of these precious habitats remain.
"The forests are hugely important to local people as a sustainable source of fuel, food and medicine and some forests, known as Kayas, are regarded as sacred.
He added that the future of this work now depended on Welsh support.
"For this work to continue we'll now rely on the money raised through WWF's partnership with Size of Wales - that means the people and wildlife of the Kwale forests need the Welsh people to support them in the years ahead."