Street lights across Wales switched off to save money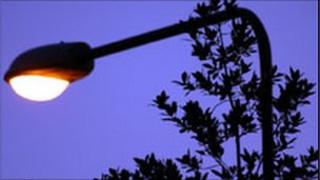 Nearly half of Welsh councils have switched off street lights in residential areas to save money.
Bridgend is the latest to confirm plans to turn off lights in all county wards after energy bills hit £826,000 last year.
However, Swansea has decided against a switch-off after residents objected.
The council budgeted £200,000 to switch off lights across 5,000 streets but re-thought the decision after complaints.
Council leader Councillor Chris Holley said: "I would like to inform the residents of Swansea that we will not now be switching off any residential street lights.
"During the budget process a sum of money was taken out for the reduction in street lighting.
"Since then, through detailed study of the budget and public engagement, this item is to be removed so street lights in residential areas will remain on."
Community safety
Of the 22 local authorities in Wales, 10 have already implemented changes to street lighting.
A Bridgend council spokesman said it had taken the decision following a 27% increase in energy bills over the past five years.
It piloted a switch-off and is currently rolling out the scheme borough-wide with the aim of saving 440 tonnes of carbon and more than £140,000 in energy costs every year.
A spokesman said: "A rolling programme of maintenance and investment in new, more efficient technology will see every other street light in most parts of the county borough switched off between midnight and 5.30am - a process known as part-night burning."
The council said it would make sure there was no detrimental effect on highway or community safety by keeping lights on at busy junctions, pedestrian and rail level crossings, places where CCTV coverage is required, accident hot spots and areas where there are high numbers of late-night pedestrians.
Blaenau Gwent, Ceredigion, Powys, Pembrokeshire, Torfaen, Caerphilly, Newport and Carmarthenshire councils have also introduced switch-off schemes, although most are only for part of the night.
Caerphilly said the switch-off was only in force along main non-residential roads connecting towns and villages, including industrial areas, between midnight and 05:30 BST.
Councillor Rob Gough, cabinet member for transportation and planning, said: "We fully appreciate that this is a sensitive issue, but we have carefully considered all the issues and feel that this option will have the least impact on our residents.
"The roads affected will be in non residential areas at a time when traffic use is minimal - and as an extra safeguard we have agreed to carry out health and safety impact assessments on any routes that may be causing concern."
Cut emissions
Ceredigion estimates it will save upwards of £50,000 a year in energy costs due to the change. However, the cost of converting existing street lights to part-night lighting was £120,000.
In Powys the council has earmarked £1.2m to upgrade its older high power use lights to LED lights.
It is also trialling lights that dim part of the night and predicts savings of £1m over five years.
Meanwhile some councils have instead invested in more energy efficient lighting or timer switches that dim after midnight.
In Anglesey, where there are approximately 9,500 street lamps, the council is gradually changing to a light which can be dimmed between 01:00-05:00 BST.
All new housing developments on the island are required to design estates using lanterns that are more energy efficient.
Those which have not yet targeted street lighting are Monmouthshire, Wrexham, Flintshire, Rhondda Cynon Taf, Vale of Glamorgan, Neath Port Talbot, Gwynedd, Conwy, Denbighshire and Merthyr Tydfil.
However in Gwynedd and Cardiff, the authorities are looking at the best ways to cut emissions and Cardiff is trialling dimming lights and LED lighting units in some areas.
Torfaen is also hoping to install dimmer switches on lights to see further benefits.