Ucac union teachers vote to strike over pensions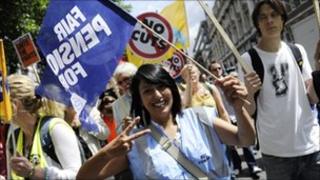 Members of a Welsh teaching union have voted for a one-day strike next month over plans to change their pensions.
Ucac, which represents about 3,500 staff, said members will walk out on Wednesday 5, October.
The union said 89% of those who took part voted for industrial action. General secretary Elaine Edwards said the "overwhelming" result showed how angry members were.
The UK government has said it wants to provide a fair and sustainable pension.
Ucac members in 617 schools - and lecturers who are members of the teachers' pension scheme - were balloted.
Ms Edwards said the proposed changes were not necessary and meant teachers were being forced to help plug the hole in public finances.
"The fact that members have voted overwhelmingly in favour of a strike shows that they are united in their opinion that the Westminster government's attack on public sector pensions is entirely uncalled-for and wholly unfair," she added.
'Express their feelings'
"We know that the teachers' pension scheme is sustainable.
"Despite the government's rhetoric sustainability is not what's driving these changes, they are raiding people's pension pots as a direct result of the banking crisis.
"It's immoral to destroy a system that's working effectively and giving people security in their old age just for the sake of political expediency."
The Association of Teachers and Lecturers (ATL) Cymru education union congratulated Ucac on its "decision to take action to protect teachers' pensions".
Dr Philip Dixon, director of ATL Cymru, said: "While those who caused the economic mess are now guaranteeing themselves platinum plated pensions, hard working teachers are being penalised.
"The Westminster government needs to begin real and constructive dialogue over teachers' pensions if it is to avoid the prospect of every school in England and Wales being shut at least once this term as teachers protest about proposals which would see them pay more, work longer and get less."
The UK government has maintained teachers would still have one of the best pensions available.
The Department for Education said it had started more detailed discussions with unions and had proposed that contribution rates for the next year would rise.
'Harms pupils' learning'
Proposals for increasing rates in 2013/14 and 2014/15 will be the subject of further discussion.
"Any industrial action harms pupils' learning, inconveniences parents and damages teachers' professional reputation," added the Department for Education.
It was announced last week that the NASUWT teaching union is to ballot members in Wales and England on industrial action over pensions, pay, working conditions and jobs.
Several teaching unions staged a one-day strike over pensions in June. Ucac members were not on strike but the union supported the action.
Although education is devolved to Wales, pay arrangements fall under the UK government's remit.