Major shake-up for Cardiff's waste collection starts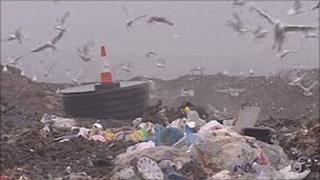 Fortnightly black bag collections are starting this week for thousands of homes in Cardiff as part of a major shake-up in waste management.
The city is bringing in weekly green bag and food waste recycling, as well as changes to collection days for most people.
Cardiff Council said it will "revolutionise" the city's approach to recycling.
Around two thirds of the city's residents currently recycle waste.
The move to fortnightly black bag and bin collections is aimed at encouraging more residents to recycle.
On average each home in Cardiff produces 141kg of waste every year which is not sent for recycling or composting.
But this has already been reduced from a figure above 200kg four years ago.
Black bin bags and garden waste will now be collected on alternate weeks to reduce this figure further.
Coun Margaret Jones, executive member for environment, said: "This is a big moment for Cardiff.
"We are putting a system in place that will ensure we all reduce, reuse and recycle more waste then we ever have before, making Cardiff a sustainable city to be proud of."
Food waste recycling has been piloted to more than 8,500 homes over the last year, with weekly collections from kerbside caddies.
The trial started by using bags, but these were changed to plastic boxes because of problems from seagulls ripping into them to eat the remains of food.
Composted
The council found this was the major reason for residents deciding not to put their food waste out during the trial but it is confident the use of plastic caddies has now solved the problem.
Numbers choosing to recycle their food waste has grown from 80% to more than 87% over the trial period. Splott residents have proved the most interested in food recycling, with more than 91% choosing to use their caddies.
Waste collection routes have been re-designed and collection days reorganised to target those suburbs, such as popular student areas, which would benefit from collections earlier in the week.
Residents have also been sent information and extra bags and caddy liners.
Coun Jones added: "We are grateful for the way Cardiff residents have worked with us on this and full assistance is available for those still unsure how this important new service will work."
Other parts of Wales are in the middle of looking at ways of tackling their own waste issues. Five councils across north Wales are currently consulting with the public on a £800m plan to deal with waste.
According to the latest quarterly Welsh Government figures, the amount of municipal waste recycled, reused or composted has risen from 37% to 43% in 2011 compared to the previous year.
The figure for Cardiff is 42%, while Ceredigion has the highest proportion - 56%.
A decade ago the figure was only 7% for the whole of Wales and in Cardiff it was 3.4%.