Experts discuss apps design at Aberystwyth University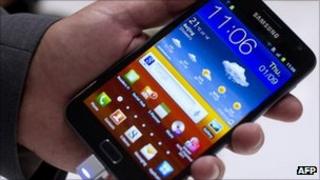 The mobile phone has become an indispensable tool for many of us.
More than 90% of people in Wales own one, and more than a third of us have a so-called smartphone.
Hoping to capitalise on a market now worth around £10bn a year, mobile developers from around the UK are gathering at Aberystwyth University for a conference to share expertise around building applications, or apps, for these devices.
These programmes for the latest generation of mobile gadgets - such as the iPhone, iPad or Google Android devices - can do everything from mobile banking, games, maps and social networking to booking cinema tickets, making video calls and cookery recipes.
"The biggest change in the last few years is that these smartphones really do put a computer in your pocket for the first time. That's how powerful they have become," said Prof Christopher Price, from the computer science department at Aberystwyth.
Modern mobile phones combine a number of technologies that transform them from mere telephones to conduits to the world's largest repository of information - the web.
From GPS to gyroscopes, high-definition cameras and powerful processors, the modern smartphone is one of the most sophisticated pieces of technology ever created.
The computer science department at Aberystwyth is also using the conference to further enhance its reputation in the mobile world; it has developed a number of mobile apps, including a basic Welsh tutorial program, and a more sophisticated Welsh for adult learners app in conjunction with the Welsh Joint Education Council.
Prof Price said he organised the conference after feeling that the relatively small community of app developers in the UK would benefit from sharing knowledge on getting the most from apps and mobile devices.
He added: "In the Third World these phones are helping communities leap straight into the digital age, jumping over the use of desktops. Even in the UK, these devices are transformative putting information at our fingertips at all times, wherever we are."
Popular apps
He believes the industry is poised to grow to be worth more than £100bn in a matter of a few years, and that the UK, and developers in Wales, are poised to take advantage of that explosion.
Craig Lockwood, from digital agency Huw David Design, based in Llantrisant, Rhondda Cynon Taf, said: "Whether you are working for a big agency in one of the bigger cities or a small independent developer working at home in your bedroom, you've got a platform where you can distribute these apps globally."
Huw David has designed an app for the Cardiff design trail, as part of the city's design festival.
It lets users tag and share photos of interesting things around Cardiff and beyond - from architecture to graffiti - and share them with other users.
Speaking at the conference was Dave Addey, well-known within developer circles for his popular UK train times app.
He started as a sole developer with an idea for an application and took a demo to National Rail, who commissioned him to build and release it.
It is now one of the most popular apps in the UK and lets users plan rail journeys wherever they are in the country.
"The great thing about mobile app development is that all it needs is a great idea, and commitment to get the app made," he said.
Huw Davies, from Software Alliance Wales, which helped organise the conference, said: "We're looking to put businesses in touch with each other, to share ideas and information so they can take advantage of this revolution.
"It really no longer matters whether you are in San Francisco or in the south Wales valleys."
In the mobile world, it would seem that all roads lead to Aberystwyth University, at least for the next few days.