Rare plants extinction threat from changing sand dunes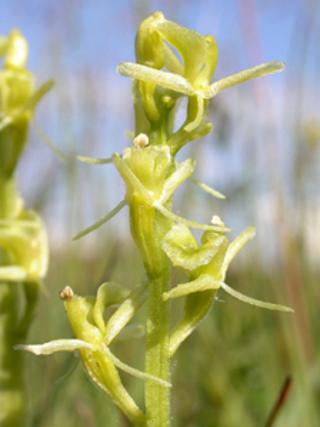 Rare plants on the Welsh coastline are in danger of becoming extinct because of the way sand dunes have changed.
Experts say many types of orchids have disappeared because dunes have become more stable, eliminating the conditions necessary for some species to flourish.
They fear species relying on sand dune movement as part of their lifecycle have fewer opportunities to reproduce.
Plants such as fen orchids thrive on bare areas of damp ground left behind by moving sand blown by the wind.
A project is now being launched to halt the decline.
Plant experts are meeting to discuss how dunes at Kenfig Burrows, in Bridgend county, can be encouraged to "remobilise".
The shoreline location nature reserve is the last of seven sites around the Bristol Channel to host a particular variety of wild fen orchid.
Experts say the site has just 400 plants, while in the 1980s the orchid's overall population was nearer 100,000.
The Countryside Council for Wales is hosting a workshop on Tuesday to combat the "over-stabilisation" of sand dunes in Wales as a way to boost wildflower diversity.
Unstable systems
The Plantlife Cymru charity is leading the project to restore dune mobility, so that more open patches of sand are created and ground nearby is disturbed more often.
Just 2% of the dune system at Kenfig nature reserve is now bare sand, down from about 40% in the mid 1940s, according to the charity.
Landscape conservation manager Andy Byfield said: "Sand dunes are complex, unstable systems that are naturally mobile, supporting a specialist flora that prefers the bare, calcium-rich sand.
"Normally, when the sand blows away, it blows down to damp ground and then stabilises. It's those bare bits of damp sand that the fen orchid would have colonised.
"We're trying to replicate on a small scale some of those bare damp bits of sand that it so likes.
"We know from aerial photographs that in the 1940s nearly half of Kenfig Burrows was open, bare sand.
"It shows just how much the place has become overgrown and heavily vegetated.
Declining species
"Sadly some wild flowers and other coastal dune plants have declined drastically, some have already gone extinct."
Mr Byfield said the partnership of environmental groups hoped to see an increase in fen orchid numbers at the location, managed by Bridgend council, in five or six years.
As well as fen orchid, other declining species which would benefit would include round-leaved wintergreen, marsh helleborine and early marsh orchid, he added.
If the trial management work at Kenfig proves successful, it will allow similar strategies to be recommended at other sites around the Bristol Channel, said Mr Byfield.