Who should take main responsibility for child learning?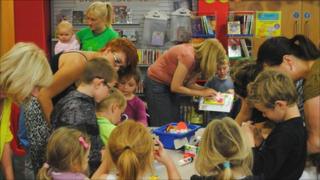 At Barry Library in the Vale of Glamorgan the children's area is teeming with toddlers, too young to read but eager to listen to today's story about the gingerbread man.
Most parents at the session see it as their role to educate their children before they go to school, such as Nicola Cummins, who has two daughters aged four and eight months.
"I would definitely say it's a combination of school and parental input at home and grandparents," she said.
"Just anybody else at home who can help and teach them life's rights and wrongs. That's definitely something that parents need to instil in their children."
But where does the line for parental responsibility end and the school's begin?
Should parents be expected to ensure that learning takes place at home as well as in the classroom?
Dr Andrew Davies from the University of Aberystwyth says that over the last century there has been a continual drawing and re-drawing of that line.
"The state has actively got involved in areas of family life such as parenting skills, children's play, helping parents from disadvantaged groups get into the labour market, things like healthy eating and exercise within families - areas where previously it hadn't assumed such an active role."
An example of this happened back in 2004, when Welsh ministers launched a free school breakfast scheme as part of a wider agenda to raise educational standards and put the most disadvantaged children in the best position to learn.
At Alltwen Primary School in Neath Port Talbot, after school clubs are just as much for parents and grandparents as they are for the pupils.
Focused on reading and literacy, they aim to "train" parents to spot problems and help their children improve.
Judith Cozens, from Clase in Morriston, Swansea, has been attending the classes.
"It's a bit like teaching an old dog new tricks," she said.
'Opens your eyes'
"It just opens your eyes to the different ways of reading with a child which I know I've benefited from and I know my grandchildren will too."
Although she does not see this as her responsibility as a grandparent, she says she is very happy to contribute to the education of her grandchildren.
Her input will prove invaluable for six-year-old Elliott and Amelia, four.
On average they will spend 900 hours in a classroom over the course of the year, but 1,200 hours with their families.
That means teachers working even harder to capture their attention in a digitally distracting era. Children are said to spend 2,000 hours watching TV or playing computer games).
Dr Russell Grigg, head of South West Wales Centre of Teacher Education, the largest provider of teacher training in Wales, said: "We've got good standards, generally speaking, of students learning to be teachers when they leave university.
"But the challenge for us in Wales is, on the one hand if we're saying standards are generally good as they're training to be teachers, the Pisa results and other indicators suggest that there are real issues with literacy and numeracy, so there's something not quite right there."