Sir Tom Jones in Monaco hospital after health scare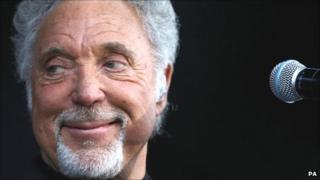 The singer Sir Tom Jones cancelled a Saturday night concert in Monaco on doctor's orders, it has been confirmed.
His spokesman said Sir Tom, 71, was suffering from severe dehydration, but denied earlier press reports of a heart scare.
He spent Saturday night in hospital in Princess Grace Hospital in Monte Carlo, where he was said to be well.
The Welsh star's performance on Saturday in Monte Carlo was due to be the last of a three-month tour.
Many of the shows were in locations in the "throes of high summer heat", said the official statement.
"Sir Tom was ordered by doctors not to perform in Monte Carlo yesterday evening, due to severe dehydration.
"This was extremely disappointing for Tom, the band and all connected with the tour," said the statement.
"There are no heart problems, as has been reported in the press."
Weight loss
In an interview in June on BBC Radio 2's Chris Evans Breakfast Show Sir Tom told how he had lost 2st (12.7kg) after going to see a dietician.
He put his weight loss success down to cutting out alcohol for two months and eating healthy food.
The veteran performer talked about a busy summer schedule, performing at a number of festivals.
Born Thomas Jones Woodward on 7 June 1940 in Treforest in the south Wales valleys, Sir Tom began singing at an young age at family gatherings, weddings and his mother's Women's Guild meetings.
At the age of 16 he left school, working nights in a paper mill and became the leather-clad lead singer of Tommy Scott and the Senators but they failed to gain much success.
Then he was spotted by London-based manager Gordon Mills who recognised his potential, seeing his second single, It's Not Unusual, becoming a major hit.