Huge fin whales make return to Pembrokeshire waters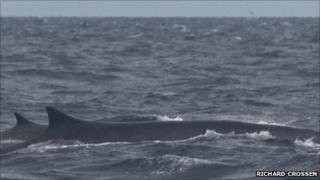 Marine experts say groups of fin whales are now returning to Welsh waters on an annual basis.
The fin whale is the second largest living animal after the blue whale, and is an endangered species.
Research by the Sea Trust shows pods of the mammal are swimming to waters off Pembrokeshire each year in larger numbers than ever before.
Trust co-ordinator Cliff Benson said: "It's one of the planet's most spectacular wildlife events."
Volunteers from the trust were out on a fact-finding mission last week and captured footage of a school of at least 12 whales feeding all around their boat near the Pembrokeshire islands.
Massive shoals
It followed an earlier trip in 2009 when researchers came across more than 20 fin whales in the same location.
Mr Benson said: "Last year weather conditions dashed our hopes of getting out for a second rendezvous but reports of multiple sightings on the Sea Trust "Whales In Wales" blog last week confirmed our theory that it was probably an annual event.
"We were scheduled to go out there with Nick o' Sullivan, skipper of the Celtic Wildcat on Friday and despite some pretty heavy seas, we connected with them about 30 miles offshore.
"We had at least 12 feeding all around us and one passed so close in front of us Nick had to slam the engines into reverse to avoid collision."
Adult fin whales can weigh anywhere between 30 and 80 tonnes, grow to more than 90ft (27m) and are the second largest animal on the planet behind the blue whale.
Mr Benson said their tongue usually weighs more than an African elephant and they appear to be coming here each year to feed on massive shoals of small fish.
He added: "In the past we had seen one or two, and back in 2005 a group of four, but they now seem to be arriving in much greater numbers.
"In 2009 we came across at least 20 with massive blows appearing all around us as far as the eye could see, along with animals feeding around the boat."
Sea Trust is a section of the Wildlife Trust S&W Wales.
Records of the sightings will be passed to the European Defence Agency as part of a protection of marine mammals project.
Active sonar
Mr Benson said the ministries of defence in Germany, Italy, the Netherlands, Norway, Sweden and here in the UK have asked the charity to provide them with their records.
He added: "The project aims to protect marine mammals against the impact of active sonar deployed by European navies.
"This could save the lives of many of the whales and dolphins that inhabit our waters.
"We are keen to work closely with the military to prevent incidents such as the one off Cornwall which killed more than 20 common dolphins which stranded on the coast after a naval exercise a couple of years ago."
Manmade ocean noise, from shipping, oil and gas excavation and naval sonar, is thought to make it ever harder for whales to navigate, communicate, find food or mates and avoid prey.