Karl Francis's appeal against South Wales Police upheld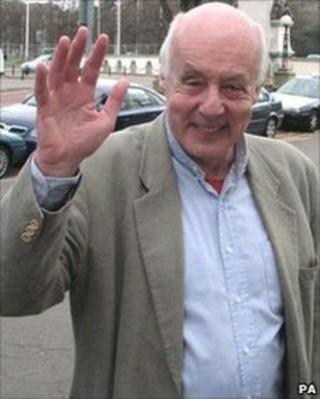 A filmmaker cautioned over indecent images of children has welcomed a ruling that police did not investigate his complaints about the case.
Karl Francis, of Cardiff, was registered as a sex offender for two years after nine charges were dropped.
He insisted he was researching a film project and accepted a caution mainly to retrieve the work on his computer.
The Independent Police Complaints Commission (IPCC) has asked South Wales Police to investigate his complaints.
A spokesman for the IPCC said: "I can confirm that the IPCC has upheld some of Mr Francis's appeals and these matters will now be addressed by South Wales Police."
Mr Francis said he wrote to the force's chief constable in 2003 alerting him to the fact that he was researching child abuse and paedophilia for two film projects and claimed that he received a letter back giving him permission.
South Wales Police subsequently launched an investigation and in 2007 arrested Mr Francis and seized his computer.
The former BBC Wales head of drama was charged with nine offences, all of which he denied.
'Entire intellectual property'
In July 2009 a judge at Cardiff Crown Court heard that he had accepted a police caution on the basis that he had 18 indecent images relating to two counts.
The two counts were not proceeded with, and not guilty verdicts were recorded on the other seven, which were dropped.
After accepting the caution, Mr Francis was registered as a sex offender for a period of two years, which expired in July 2011.
Mr Francis later said that he accepted a caution primarily to retrieve the computer which he said contained his "entire intellectual property", as he did not have copies.
He also expressed concern about the impact that media reporting of a trial would have had on his family.
Upheld appeal
In August 2010, the film maker wrote to South Wales Police making a series of complaints about their handling of the case.
Amongst his concerns were the disregarding of his letter stating the purpose of his research, the treatment of witnesses and evidence, and what he called the "unnecessary force" of his arrest.
In January 2011, following a reply from South Wales Police which said his complaints had been recorded, Mr Francis contacted the IPCC to ask that the force properly investigate them.
In July, the IPCC told Mr Francis it had upheld his appeal with regards to a majority of his concerns, although it said alleged ignorance of the pre-warning letter was a matter for the South Wales Police Authority.
A letter from IPCC casework manager Steven Smith stated: "I have upheld your appeal.
'Frustrating four years'
"You should now expect South Wales Police to contact you regarding the actions that I have asked them to take."
A subsequent letter to Mr Francis from Ch Supt Tim Jones, head of professional standards at the force, said: "I am now in the process of considering the issues subject of complaint in order to decide upon the most appropriate means by which they may be addressed."
Mr Francis told BBC Wales that he welcomed the IPCC's findings.
"I'm very happy with the way it's going," he said.
"It's been a very frustrating four years ... I'm very pleased the police are now going to investigate themselves.
"I have to trust that South Wales Police will properly investigate themselves."