England riots: Welsh police remain in riot-hit cities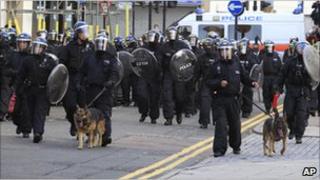 Officers from Welsh police forces are continuing to help their colleagues restore order in English cities following the riots.
South Wales Police, Dyfed-Powys Police and North Wales Police said officers had been "actively engaged in dealing with and preventing disorder".
Officers remain in English cities, with the situation "under daily review".
Gwent Police refused to confirm whether it had sent personnel.
After four days of violence and looting, which spread from London to other cities including Manchester, Salford, Liverpool, Nottingham and Birmingham, a large police presence and heavy rain prevented a fifth night of rioting.
A North Wales Police spokeswoman said: "We continue to supply public order trained officers to support colleagues in London... yesterday evening we again supplied similar support to Greater Manchester Police."
She confirmed that none of the officers had been injured.
"We will continue to deliver fair, robust and professional policing to keep north Wales safe whilst at the same time making a full contribution to protecting the public and supporting colleagues across England and Wales," she said.
A South Wales Police spokeswoman confirmed that 54 officers had been sent to London on Monday and remained in the capital on Thursday.
"It's under daily review, depending on what happens over the next couple of days. But we're not expecting them back today," she said.
A Dyfed-Powys Police spokeswoman confirmed that officers were in other areas of the UK to deal with the riots, but refused to say how many had been dispatched.
She added the situation was "being monitored hour by hour".