Welsh streets quiet as England city rioting continues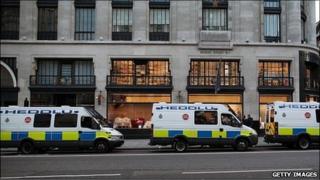 Police say there were no outbreaks of serious disorder in Wales as violence and looting returned to some of England's cities for a fourth night.
South Wales Police say they dealt with a number of small, isolated incidents in Cardiff.
They included the window of a sports shop in Cardiff Bay being smashed and small fires at disused buildings in the Butetown and Canton areas.
Cardiff arcades' shopkeepers decided to close early on Tuesday as a precaution.
The incidents in Cardiff on Tuesday night, including small fires at empty buildings, were called minor by police.
Chief Superintendent Josh Jones said: "These incidents are being treated as isolated which have caused relatively minor damage to property."
Three Welsh police forces have sent officers to London and elsewhere to help tackle violence.
Dyfed-Powys Police confirmed that some of its officers had been sent to other parts of the UK "in the wake of the recent serious public disorder seen in London and other cities".
Assistant Chief Constable Nick Ingram said the request for help under the national mobilisation scheme would not affect policing in his force area.
He said: "We will be providing assistance to other forces where required, but we have the resilience to maintain front line policing in Dyfed Powys.
"And we are monitoring social networking sites. Positive action will be taken against anyone who incites public disorder or any other criminal activity within Dyfed Powys."
North Wales Police would not give numbers on how many riot-trained officers had been deployed elsewhere but deputy chief constable Ian Shannon said some were in London while others had gone to Manchester.
He said none of the officers had been injured and those in Manchester had made four arrests for looting-related offences.
Information gathered from social networking sites had led to some officers in north Wales being kept on duty on Tuesday evening, he said.
A 21-year-old man had been arrested and released on bail pending Crown Prosecution Service advice, he added.
Mr Shannon said: "If, during our monitoring of social network sites, we find evidence of people trying to incite disorder we will take action."
On Tuesday, South Wales Police said 54 officers with specialist public order training had gone to London.
Gwent Police have indicated they are in a position to send officers if needed.
'More respect'
First Minister Carwyn Jones said the Welsh Government would monitor the situation in England.
He said: "I think what's important is that what we've seen in some of the cities in England is that [it] stops and that people are able to go about their daily lives.
"I hope, of course, in Wales people have more respect for each other in their communities where they live."
London stayed largely quiet overnight but there was unrest in cities including Manchester, Salford, Liverpool, Nottingham and Birmingham with shops being looted and set alight.
Three men died when they were hit by a car in Birmingham - locals claimed they were protecting their neighbourhood.