Connie Fisher exits Maria role due to throat condition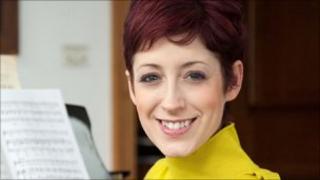 Reality TV star Connie Fisher has had to quit as Maria in a touring production of The Sound of Music because of problems with her voice.
She has been battling a throat condition for months and said it had compromised her vocal range.
The 28-year-old, from Pembrokeshire, starred in the musical in London after winning the part in BBC One's How Do You Solve a Problem Like Maria?
The role, alongside Jason Donovan, will be played by Verity Rushworth.
Singer Fisher said she was "devastated" not to finish the tour, which returns to Cardiff's Wales Millennium Centre later this month.
It is also to visit Manchester, Newcastle and Wimbledon before the end of October.
In a statement, she said: "After many months of battling with a throat condition, known as congenital sulcus vocalis, my vocal range has altered dramatically and it is with much regret that I have to withdraw from The Sound of Music as I no longer have the range to sing the part of Maria.
"My journey with this amazing show has been such a magical one and I am devastated that I am not able to close the tour."
It is not the first time a medical condition has led Fisher, who shot to fame while she worked in a call centre, to pull out of performing.
In April 2009 she scrapped her solo show tour after vocal specialists in the US said she needed a procedure on her vocal cords.
Fisher, who grew up in a village near Haverfordwest, has been the lead role in the national tour of Andrew Lloyd Webber's production of The Sound of Music since it opened in Cardiff in July 2009.
Since leaving the West End stage version of the musical in 2007, she has recorded an album and was seen in an ITV drama at Christmas 2008.
More recently, she has recorded a television series, Connie's Musical Map of Wales, for BBC One Wales, which began on Monday.
Last year the West End star married banker Jeremy Reed, who she met on a Cardiff train station platform.
The touring production of The Sound of Music runs at the Wales Millennium Centre from 23 August to 3 September.
Verity Rushworth is perhaps best known to television viewers as Donna Windsor in ITV1's Emmerdale, a role she played for 11 years.