4,000 people 'still waiting for allotments'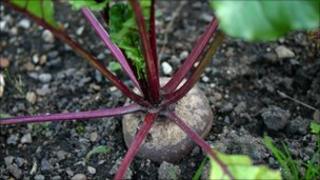 The number of people in Wales waiting for an allotment has not reduced for two years, says the National Society of Allotment and Leisure Gardeners.
Allan Rees MBE, chairman of the organisation, said 4,000 people were still waiting to have an allotment.
Monday sees the start of National Allotment Week.
In June, First Minister Carwyn Jones set out plans to ensure minimum standard for the amount of land Welsh councils should devote to allotments.
The National Society of Allotment and Leisure Gardeners, which has 5,000 members in Wales, argues there needs to be more emphasis on providing allotments.
A survey of English local authorities found an average of 57 people were waiting for every 100 plots.
Mr Rees told BBC Radio Wales that the Welsh Government, with aid from Europe, had spent nearly £1m "teaching people how to grow".
He said: "That's all well and good but there are no allotments. In 2009, there were 4,000 people on the waiting lists in Wales. That hasn't changed."
He said that planning regulations allowed councils to insist that some land within new housing developments was used for allotments.
"So there's no excuses, really, for local authorities. They can compulsory hire and they can compulsory purchase," he said.
Mr Rees said he had only recently acquired his new allotment, at Tondu, Bridgend, after a five-year wait following a house move.
Councils have a statutory duty to provide allotments under the provisions of the Small Holdings and Allotments Act 1908.
A Welsh Government spokesperson said: "We are very aware of the increase in demand for allotment plots over recent years and know that in many parts of Wales demand is not met by supply and that there are vast differences in waiting times for plots.
"That is why, to support local communities in becoming more sustainable and healthy, we have announced that we will be using the Environment Bill to legislate on the amount of land to be used for allotments and to ensure a minimum standard across Wales."
She added Mr Rees had referred to the Rural Development Plan for Wales, which helped organisations including farmers' markets and city farms to set up new schemes and manage groups of volunteers.
More than 600 community garden/allotment projects had been undertaken by the Tidy Towns project since April this year using additional funding from the Welsh Government, she said.