Pair who practised on Skype win Wrexham Eisteddfod duet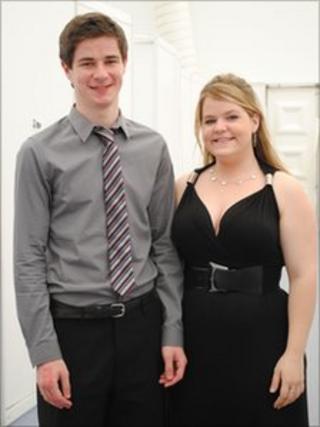 Two singers have won a competition at the Wrexham National Eisteddfod, after using Skype to practise on the web.
Meilir Jones, 19, and Jessica Robinson, 20, could not regularly travel the 150 miles (241 km) between his home in Llangefni, Anglesey, and hers in Clunderwen, Pembrokeshire.
After practising their duet on the phone, they turned to Skype.
Ms Robinson said: "Some of the time there was a delay, so I'd finish a bar before him."
The pair met at the Royal Welsh College of Music and Drama in Cardiff, where they are both studying opera and vocal studies.
Their vocal coach composed a piece for the competition, which was open to under-25s.
Ms Robinson said: "We didn't get the piece until June, and submissions had to be in by 1 August, and in order to qualify for the competition we had to win two local eisteddfods.
"One was up by Meilir and the other down by me.
"When we were in college together, it was fine, but because we live so far apart, practicing was not easy.
"We practised on the phone, and over Skype.
"Thank heavens for Skype. We're over the moon."
The singer said that one of the local eisteddfodau they won was near her home, and had faced a seven-hour train journey home.
She added: "I live on a dairy farm, and luckily the milk lorry was going to Llangefni. The driver said 'jump in,' and Meilir got a lift home on the milk lorry."