Independent Wales would be 39% richer, claims ex-MP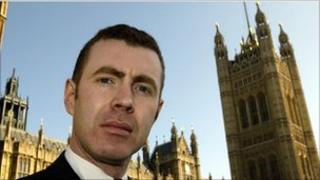 People in Wales would be about 39% richer had it achieved independence more than 20 years ago, according to a report by a former Plaid Cymru MP.
Harvard University research fellow Adam Price's report claims Wales' economy would have grown by 2.5% a year if it had become independent around the time of the fall of the Berlin Wall in 1989.
The Welsh Government has been asked to comment.
A Welsh Conservative economics advisor said it was "interesting".
Mr Price told BBC Radio Wales: "We have looked at the relationship between economic performance and country size.
'Small countries do better'
"What we find... there does seem to be this small country bonus. Basically, if you are small, over the last 30 years in the European Union, you do better."
He added: "If we had been independent in 1990, it would be interesting to see what we would have had in terms of an economic policy and what kind of sectors we would have developed.
"I think Ireland did a big study in the middle of the 1980s looking at the sectors that it should develop and that's the one thing I think that the Irish were very very good at back then."
Opinion polls consistently show about one in 10 people support independence for Wales.
Plaid has a long-term ambition for an independent Wales within the EU.
The report comes after small economies, such as Iceland and Ireland, were rocked by the worldwide financial crisis.
But Mr Price said Ireland was "still richer than Wales despite its current problems".
The former Carmarthen East and Dinefwr MP said the report, commissioned by Plaid MEP Jill Evans, found "small countries do better", and economists were still "grappling" with the reasons why.
Front-line politics
He said one possible reason was that small countries become "natural exporters", adding: "Because of the nature of being small, you become an exporting entrepreneurial economy, the one thing Wales isn't at the moment."
Mr Price said smaller countries were "agile" and moved fast.
The former MP also confirmed he "would like to get back involved in front-line politics", saying he would like to serve if there was an "opportunity" at the next election.
The report, called The Flotilla Effect: Europe's small economies through the eye of the storm, claims to present "a number of new findings which will have a significant impact on the independence debate in Wales and Scotland, and the current discussions on the origins and consequences of the Euro-crisis".
Professor David Blackaby, of Swansea University's School of Business and Economics, said although some small countries had done well, their success was not necessarily due to their size.
"If you have got some natural advantage, human skills or physical resources, there's usually a reason why countries did well and it needn't necessarily be related to size," he said.
Professor Dylan Jones-Evans, economic advisor to the Welsh Conservatives and director of enterprise and innovation at the University of Wales, said it was an "interesting" piece of research.
He added: "Certainly what is missing in the paper is an assessment of whether a successful region within a national economy can perform better than, shall we say, a small independent nation of the same size, and that is sorely missing in the analysis".
He said Wales was the poorest nation in the UK, and had "deep structural problems, particularly within areas like the south Wales valleys that will probably take another generation to actually deal with, and any independent nation would have to focus on that".