Communities 'need more' to save local pubs, says AM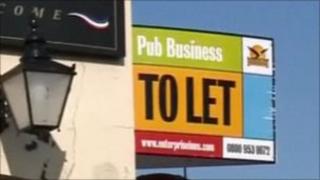 Communities struggling to save their local pub should have more help from the public and private sector, says a North Wales AM.
Llyr Huws Gruffydd said he will write to large pub-owning companies (pubcos) to see if they will give regulars the first chance to buy a pub being sold.
The Plaid AM's comments come after a report showed 375 pubs closed in Wales from 2007-10, 80 of them in the north.
The British Institute of Innkeeping has been asked to comment.
Figures released by the Save Our Pubs and Clubs campaign, a coalition of groups that want the smoking ban to be amended, show that Wales has suffered a similar rate of decline in pub numbers to England since both countries banned smoking in pubs in 2007.
Inner city pubs, in areas traditionally seen as having high levels of smoking have suffered the most, the report suggested.
In Wales, two Cardiff parliamentary constituencies saw 39 closures and Swansea West, which includes much of the city centre, 20 closures, putting them in the top five areas for the most number of pub closure.
However, the Clwyd South constituency, covering a much more rural area around Llangollen, saw the third highest number of closures, 20, in this period.
Mr Gruffydd said community pubs were a "glimmers of hope" as the pub trade suffered a combination of rising costs, cut-price alcohol promotions by supermarkets and the economic downturn.
Community takeovers
He highlighted The Raven Inn at Llanarmon-yn-Ial, Denbighshire as an example of how a local can be kept and run by dedicated local volunteers.
He said he is to write to pubcos over the summer asking them to keep pubs they want to sell off the open market while a community bid is put together.
He said: "At the moment, the first a community might know about [a pub being sold] is when they see the 'for sale' sign going up.
"Bringing the community together can be quite a long drawn out process so it is not always convenient to turn that around quickly.
"The big problem is that there are no easy answers, one size does not fit all."
Local authorities should also be "proactive" in promoting the services and help they can offer communities hoping to take over a local pub, said Mr Gruffydd.
He said: "There are initiatives such as 'The Pub is the Hub' and support is available from the Wales Cooperative Centre but we need more people to be aware that these community-run enterprises are an option for them.
"The services very often are there, just communities do not know how to access them."
Jim Pilkington, one of the directors of The Raven Inn, said Denbighshire council gave the pub a 100% rebate of its business rates.
He said: "We're lucky that we're the only pub in the village. I'm not so sure it would work in a town.
"The owner has leased us the pub on a decent 10-year lease. If you are not on a long lease, you are not going to get people to commit in the same way to the team."
The Welsh Local Government Association said it was concerned about the number of local pub closures across Wales over the last few years.
A spokesperson said: "This reflects a wider trend where other local services, such as post offices and shops, have been forced to close, particularly in rural communities.
"Local authorities are working with their communities to explore options around maintaining such services in a variety of ways, from offering assistance with funding applications to considering making better use of assets and thinking more creatively and innovatively about how best to provide local services."