Rickets cases reported in Cardiff by health workers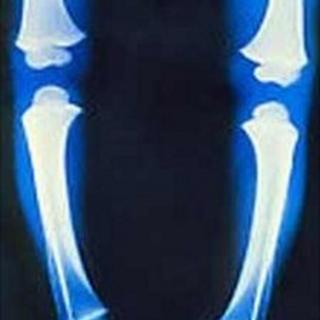 Cases of the crippling children's bone disease rickets are being seen in Cardiff, BBC Wales has learned.
Caused by a lack of vitamin D, the disease can lead to deformities like bowed legs and stunted growth, but it largely disappeared last century.
Eye on Wales has learnt health professionals working in communities in south Cardiff are reporting incidents.
Public Health Wales does not hold statistics on the number of cases as rickets is not a notifiable disease
Dr Elspeth Webb, a reader in child health at Cardiff University, spends half her time working as a paediatrician within Splott and Tremorfa in the city.
She told the programme: "We're still seeing rickets in children in Cardiff in the 21st Century - which a lot of people might be very shocked and surprised by, thinking of it as a Victorian illness. But no, it's not.
"You get women living in certain communities that perhaps don't go out much because of religious, cultural traditions.
"They're covered up when they do. They don't get enough access to sunlight. So they get vitamin D deficient."
"Every pregnancy, you use up your vitamin D stores and if you're not making enough to replenish them, you gradually get more and more depleted.
"By your third or fourth child, that child is born already without enough vitamin D."
"So they'll be presenting with rickets at around 18 months."
While her experience suggests that rickets is confined within certain communities in south Cardiff, Dr Webb says that poverty and poor access to services are also reasons why the disease is occurring.
"You don't see rickets in rich, advantaged, educated, middle-class South Asian people. So it's a mixture of religious, cultural practices with poverty."
'Quite startling'
As co-ordinator of the Butetown Communities First project, Nathan Evans has been involved in the response to rickets and believes progress can be made towards eradicating the disease.
"For me this is something from the past. This is something that is alive and kicking in the 21st Century? This was quite startling for me."
"But then some of the remedies surrounding it are around that up-take of Vitamin D. So it's around diet, it's around lifestyle."
"The Local Health Board have this big drive around vitamin up-take. This has proved quite successful locally."
"As long as active promotion of where people can access vitamins, how they can maybe modify their behaviour in order to attract more sunlight into their lives then I believe this is something that can be reversed."
The cases of rickets serve to highlight the health inequalities - and differences in life expectancy - that exist within Wales' capital city.
Those differences have always existed, but Gareth Williams - a professor of sociology at Cardiff University - said the gap was widening, not shrinking.
"Within Cardiff you've got quite dramatic contrasts between the northern area of Cardiff and the old docks area where life expectancy is considerably lower. There's a 10-year life expectancy difference."
"Everyone's life expectancy is getting better. The life expectancy of people in poor communities has been getting better very slowly.
"Whereas the life expectancy of people in wealthier places is getting better quite quickly."
Earlier this month, First Minister Carwyn Jones committed the Welsh Government to passing a Public Health Bill to deliver improved life expectancy and reduce health inequality within the life of this assembly.