London 2012: Carwyn Jones disappointment at Wales' role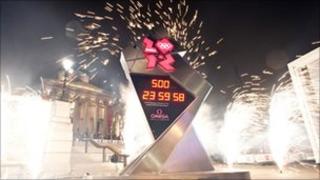 First Minister Carwyn Jones says he is disappointed that Wales is not playing a greater role in the London 2012 Olympics.
Mr Jones said he would have liked Wales to host more events than just football, and Welsh companies to have won more Olympic contracts.
But he said they were an opportunity to attract visitors to Wales.
The games start in a year's time with a match at Cardiff's Millennium Stadium, two days before the opening ceremony.
Wales is hosting 11 football matches at the stadium, both men's and women's, including the men's bronze medal clash.
"[It's] a shame of course that more of Wales' terrain wasn't being used, for example, mountain biking," Mr Jones told BBC Wales.
'No clear answer'
"I understand that an artificial mountain biking track is being constructed somewhere else.
"It would've been easier to have come to Wales where we have outstanding facilities anyway."
However, he added that he was more than happy that Wales was hosting a number of Olympic and Paralympic teams for training and preparation.
There are 32 such locations available for competing countries around Wales in a variety of sports, with teams from Australia and New Zealand already confirmed for the Paralympics.
Mr Jones also expressed disappointment that Welsh businesses have not won more Olympic contracts.
Of the £6bn of contracts awarded to British companies, it is estimated only £38m has gone to Welsh firms.
"I have spoken to the business community about this," he said.
"There's no clear answer, but I think part of the reason is the confidence of Welsh companies to bid for contracts in the first place, and it's clearly something we will have to deal with in the future."
Scotland and Northern Ireland had done "proportionately better on the figures that we have seen," he added.
Welsh competitors
Mr Jones, who first watched the games on TV in 1976 when they were held in Montreal, Canada, said he wanted to ensure that Wales lured as many visitors as possible.
"For us in Wales we have to take the opportunity to attract people to visit Wales, bearing in mind that parts of Wales are literally two hours away from London, much closer than, for example, Scotland," he said.
"I want to make sure we look very carefully at tempting people out of London, particularly those with an interest in golf.
"Not only golf, but football obviously at the Millennium Stadium, so people can see Wales and want to come back in the future and tell others in their own country of how good Wales is."
He said he was pleased to see the strength of Welsh competitors in sports where the country has traditionally been relatively weak.
"Swimming is one example. We never did well in the Commonwealth Games in swimming but we see more swimmers coming through," he said.
"Cycling, of course, we have built up that expertise, and athletics.
"We have always had this expertise in hurdles in Wales. Colin Jackson, Nigel Walker, we've seen Dai Greene, Rhys Williams - Berwyn Price in years gone by - and I hope it translates into medals in the Olympics."
Mohammad Asghar AM, Conservative Shadow Minister for Equalities and Sport, said Mr Jones' comments were an "admission that the Welsh Labour government failed to effectively lobby for a prominent role for Welsh businesses and sports venues in the world's biggest sporting event".
He added: "Instead of blaming Welsh businesses for a lack of economic confidence, the First Minister should take responsibility for the mismanagement of the economy under his government's watch, which has seen Wales condemned as the poorest part of the UK."