Sir Anthony Hopkins' music inspired by Margam childhood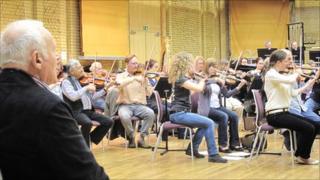 Oscar-winning actor Sir Anthony Hopkins has described how music was his first love, despite "falling into acting".
Sir Anthony spoke ahead of presenting concerts in Birmingham and Cardiff this weekend to showcase his work as a composer.
The City of Birmingham Symphony Orchestra will perform several of his original scores, including music from his own films Slipstream and August.
The actor told BBC Wales: "I never felt I belonged in the acting business."
He is best known for his roles in films such as Silence of the Lambs, for which he won an Oscar, and Remains of the Day, but growing up in Margam, Port Talbot, he developed a deep appreciation for music.
"My mother bought a cottage piano," he said. "I can see the yellow ivories now.
"F-A-C-E.. there was a face... and I got it. I suddenly could go through the whole dimension of all the chords. And so I made up little sayings to remind me - 'cows eat green beef doughnuts'.
"My mother said 'there's something wrong with this boy'. And here we are now."
He added that he only recently realised how much music had been part of his childhood.
"I wanted to be a concert pianist but that didn't work out," he said.
"When I went to Cardiff College of Music and Drama I was more interested in the music than the acting. I never felt I belonged in the acting business - I still don't."
Sir Anthony, who will appear on stage at the Symphony Hall in Birmingham on Saturday and then at St David's Hall in Cardiff on Sunday to talk the audience through his creative process, said he first started composing as a young schoolboy.
"I used to go down to Neath, to Salters music shop in Queen Street and get manuscript paper, and jot these little medleys down that have been with me all my life," he said.
'Key influences'
He counts his grandfather and home in Margam as key influences for his music.
"Dates have a particular resonance for me. I've written a piece called 1947.
"My grandfather took me to the circus in September 1947, on the football field in Port Talbot. I remember the smell of the tents, the elephants.
"So this is a kind of lament for the circus in my childhood."
Hopkins composes on the piano from his home in Los Angeles. But said he hears the different orchestral instruments in his head.
"There is some manuscript paper at home with notes in piano form, and then I add odd notes," he said.
"There's a piece that I put 'to be played like a warm Saturday afternoon'. These are all impressions from my childhood."
During a rehearsal for the concert of his compositions, Hopkins said: "After acting for a long time I wanted to do something else. I just do it for fun and for free.
"It's extraordinary. I was sitting staring at the parquet floor this morning, thinking how on earth did I get here? It's impossible."
Michael Seal, associate conductor of the City of Birmingham Symphony Orchestra (CBSO), said: "He's a very talented composer. I think he has a very distinctive voice.
"And he can write a very nice melody. Margam is one of the prettiest things you'll ever hear. It's a fantastic piece. Wonderfully scored and written from the heart."
Stephen Maddock, chief executive of the CBSO, said watching the actor interact with the orchestra during rehearsals was moving.
"These pieces have been inside his head in some cases for decades, because they are childhood memories," he said.
"Very evocative music of things he remembers, like going to places with his grandfather. So to hear it played live by the CBSO is, I think, a very moving experience for him and very exciting for us."
Lena Zeliszewska plays first violin with the orchestra and has long been a big fan of Anthony Hopkins as an actor.
"It is super exciting. I've seen Silence of the Lambs about 25 times," she said.
"Seeing him in person is really exciting. He's totally sweet and supportive.
"He likes what we're doing and looks like he's enjoying it."