Cardiff urges schools to buy £1,600 snow gritter kit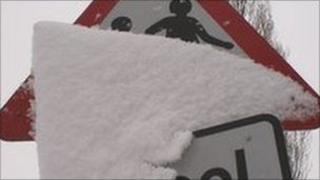 Cardiff council is asking schools and community groups to buy £1,600 "snow kits" so they can help themselves in freezing weather.
Head teachers have until Friday to put in orders for the kits - two gritting bins and a spreader machine.
A teaching union said schools do not have the spare cash while city GPs said "buckets and shovels" were cheaper.
The council said the kits would improve school and community "resilience" in bad weather "until assistance arrives".
Last winter's big freeze saw the coldest December temperatures in Cardiff for more than 100 years.
In December last year, Cardiff saw its worst snow fall since 1983 and the council's response was criticised.
The snow brought disruption to transport and services across the city and saw dozens of its 130 schools close their doors.
But the first week in January, it was gritting only principal roads in the city.
The council later held an independent review in to its response.
The review recommended the council draw up a Winter Maintenance Action Plan, including the design and costing of a "snow kit" for schools.
But the snow kits idea has received short shrift from the headteachers union NAHT Cymru.
Anna Brychan, director of the National Association of Head Teachers in Wales, said her members would have the headache of finding space for the equipment for the "360 days of the year when they would be standing idle".
She said: "Mini gritters sound like a good idea but at £1,600 each it's unlikely that our schools will find any slack in their already stretched budgets to pay for them.
"Most of our members spend an average of £150 on grit to see them through the winter weather and, unless there are plans I'm unaware of to markedly boost the financial circumstances of Cardiff's schools by this Friday, then I suspect this arrangement will have to do as usual."
The snow kits ideas has also been floated to a number of community groups in the city, including GP surgeries.
BMA Cymru Wales spokesman John Jenkins said: "This proposal raises several issues. Where would these machines be housed within GP surgeries?
"Who would pay for them and would the £1,600 be value for money? Buckets and shovels come to mind and are much cheaper."
'Safety and wellbeing'
Cardiff council said Friday's deadline was in place due to the summer holiday period.
A spokesperson said: "The action plan identifies a number of measures for improving the resilience of the council and communities to future snow events as the council want to deliver a service that robustly deals with any potential extreme weather.
"This policy is in line with the Local Government Group Civil Emergencies Strategy Document which recognised 'resilience at community level is crucial to maintaining safety and wellbeing, with communities and individuals harnessing local resources and expertise to help themselves.'"