Duffy to counter-sue ex-manager Angela Becker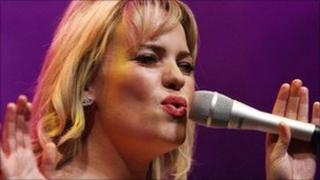 Singer Duffy is to counter-sue her former manager, who claims she is owed outstanding payments of up to £200,000.
Angela Becker, who has previously managed Madonna, is suing the Welsh singer in the High Court claiming a breach of a management agreement.
She is demanding 20% of Duffy's gross earnings during the time her second album "Endlessly" was launched.
Lawyers acting for the Welsh musician said she would defend the action and would issue a counter-claim.
The 27-year-old from Nefyn, Gwynedd, whose full name is Aimée Ann Duffy, terminated her business relationship with Ms Becker in December.
Papers filed at the Royal Courts of Justice by solicitors acting for Ms Becker claim she had a "binding oral agreement" with Duffy.
She began acting for the star in March 2010 after the singer parted with her former manager Jeanette Lee.
It is apparent no written contract was signed.
It is alleged that Ms Becker was to handle the Grammy-winning singer's business activities until the end of the promotion of the new album or alternatively four months after its initial release.
The services included managing Duffy's diary and promotion schedule, liaising with her record company and arranging recording sessions.
Ms Becker is now managing the Pet Shop Boys.
'Defending the action'
The court documents show that the claim is for less than £200,000 and includes over £5,600 of expenses incurred.
David Griffiths, a partner with Clintons, a law firm that specialises in entertainment and media litigation, confirmed it had been instructed by Duffy.
"She will be defending this action and will be entering a counter-claim," he said.
No date for a court hearing has been set.
Following the worldwide success of Duffy's debut album, Rockferry, the follow-up, Endlessly, peaked at number nine in the UK album chart in December 2010.
The only single released from the album reached number 41 in the UK singles chart.