London 2012: Team GB cyclists set for Newport return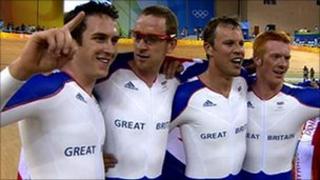 Great Britain's Olympic and Paralympic track cycling teams are likely to be among several countries using Wales for their pre-Games training camps.
Geraint Thomas, Bradley Wiggins, Sir Chris Hoy and Victoria Pendleton are set to use Newport's velodrome instead of Manchester.
British Cycling, who used Newport ahead of the 2004 Athens Olympics and Beijing in 2008, have chosen to return again.
Team GB won eight gold, four silver and two bronze in Beijing.
The paralympians collected a further 19 golds in Beijing out of the 20 they won overall.
Neither British Cycling nor organisers in Wales would confirm the move, although five other countries have confirmed they will use Wales for training camps.
The Trinidad and Tobago Olympic committee will set up camp in Cardiff while the Irish triathlon team, led by Welshman Chris Jones, will hold preparations in Swansea, and the Chinese weightlifting are to use Bangor as their base.
"After considering many options for our training location in the UK, we are very pleased with our choice of Cardiff," said Michael Romany, president of the Trinidad and Tobago Olympic Committee.
"We have been impressed by the range of world class facilities we will be using and by the enthusiastic support of our friends in Wales in assisting our final athlete preparations for London 2012."
The Amateur International Boxing Association will also have a camp at Cardiff university.
Australia, New Zealand and South Africa - who have 100m, 200, and 400m world record holder Oscar Pistorius - will use Cardiff, Swansea and Newport ahead of the Paralympics.
North Wales is also set to play host to a competing nation, understood to be China, but details have yet to be revealed.
David Evans, head of pre-games training in Wales said: "We have near enough 1,000 athletes, coaches and support staff coming to Wales.
"We are very pleased with where we are at this moment in time with a year to go before the games.
"It's so competitive, not only across the UK in the nations and regions, but across Europe too."
He added that the majority of countries competing have yet to decide where they would base themselves ahead of the games but hope more will choose Wales, which has 32 venues available.
United States, India, Japan, Canada, Mexico, Brazil, Argentina, Malaysia, Singapore, South Korea, Taiwan, Russia and Cuba are a number of names who visited Wales on a fact-finding mission.