Pet tortoise Tortie reunited with owner in Cardiff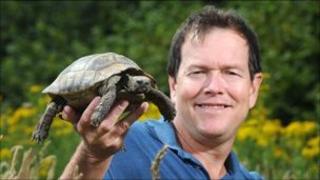 A man has thanked a refuse worker for finding his missing pet tortoise, which he had won as a young boy 45 years ago.
Tortie the tortoise disappeared from Peter Brown's back garden in Rhiwbina, Cardiff.
A council refuse collector found the tortoise in a neighbouring street and tried to find his owner, before taking him home to look after.
He was eventually reunited with Mr Brown, 51, who won him as a prize at a school fete aged six.
He feared Tortie was out "looking for lady friends" and put out an appeal for help in tracing him.
Mr Brown said he still could not understand how his pal, a Hermann's tortoise, managed to escape from the garden through two gates.
But by the time he noticed, Tortie had shifted to a neighbouring street where he was later noticed by a passing refuse man.
The council worker knocked a few doors in the area but was unable to find anyone to claim Tortie so took him home to look after him.
After publicity about the missing tortoise, Mr Brown and Tortie were reunited at the council waste disposal depot at Lamby Way.
Mr Brown said: "I felt mortified. It was quite a warm day and they do roam looking for mates at this time of year.
"I've had him virtually as long as I can remember. He has always been there. He is very affectionate. Virtually all that he eats, he eats out of my hand.
"They say a dog is for life but a tortoise is for life. A tortoise will outlive you. He is about 50 but he will probably live to be 100. He is in his prime at the moment."
Cardiff councillor Margaret Jones, executive member for the environment, said: "I am delighted that Tortie has been found in good health.
"Our employees have been eagle-eyed and efficient to ensure this much loved little pet can return home where he belongs."