£3m centre to research mental health illness in Wales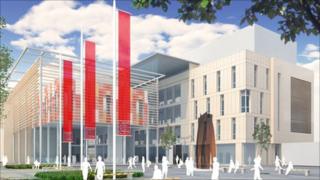 Plans for a new centre in Cardiff to help develop treatments for mental illnesses have been announced.
The National Centre for Mental Health will receive £3m of funding from the Welsh Government, and will research conditions like autism and Alzheimer's.
It will be led by Cardiff University professor Nick Craddock and will work with health boards across Wales.
The funding is part of £7m released by the Welsh Government to research other common conditions, including cancer.
The unit, to be part of the new Hadyn Ellis Building on the university's Maindy Park site, is described as Wales' first biomedical research centre, and is a collaboration between the university and the Cardiff and Vale University Health Board.
Professor Craddock, a bipolar disorder expert, said: "People with mental health problems need help and support to enable them to cope with their illness.
"Mental health problems can affect anyone, regardless of age, race, gender or social background.
"That is why it's crucial that we have a national centre that brings together front-line professionals in all parts of Wales with academics to help develop the best possible treatments for Welsh patients."
Pooling knowledge
Working with mental health patients, the centre will aim to understand what triggers mental illness.
It will focus on conditions including attention deficit hyperactivity disorder, autism, schizophrenia, bipolar disorder, depression, post-traumatic stress disorder, as well as Alzheimer's disease and other forms of dementia.
The centre's £3m funding over three years - which will pay for "posts and infrastructure" - is part of a £7m pot released by the Welsh Government.
In Bangor, £1.28m will be released for "an advanced all-Wales medical image analysis and visualisation unit", which aims to develop diagnosis and treatments for conditions like heart disease and prostate cancer.
Nearly £1.5m will go to towards research for faster diagnosis of thromboembolic disease, undertaken by staff at Swansea University's Institute of Life Sciences.
Also, nearly £1.5m will be used to research cancer genetics at Cardiff University's School of Medicine.
Dr Tony Jewell, Chief Medical Officer for Wales, said: "These investments will make a major contribution to our understanding of a range of common diseases.
"This in turn will translate into developments in diagnostics and treatments for patients in Wales and worldwide."
First Minister Carwyn Jones said: "This investment will help to cement Wales on the world stage as a place for cutting-edge research and development.
"It's vital that Wales attracts the highest quality research academics, health professionals, students and businesses and to retain that expertise.
"The knowledge gained through a collaborative approach between the NHS and universities will benchmark Wales with the best globally for health and life sciences research."