Risk fear after Welsh university tuition fee decision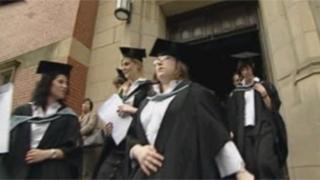 Opposition parties criticised the decision to let eight Welsh universities charge maximum tuition fees of £9,000 a year.
Welsh students will have the fees rise paid for them by the Welsh Government, which said it was confident the £280m a year policy was affordable.
The Conservatives said the financial commitment was "increasingly uncertain".
Plaid Cymru called it "high risk".
Conservative education spokeswoman Angela Burns said: "Subsidising students from Wales and across the EU to the maximum fee of £9,000 represents an increasingly uncertain financial commitment for the public purse.
"Given that only weeks ago Welsh universities' bids to charge £9,000 were thrown out, we need clarity on what changes have been made to plans to widen access and raise standards in order to justify charging the maximum fee.
"It is regrettable that Welsh Labour ministers announced this pre-election policy before working out how much it would cost or where the money would come from."
It is thought most Welsh students will pay roughly £3,400 a year with the Welsh Government paying the rest.
Applicants from European Union countries will also be eligible for the subsidy, though students from England, Scotland and Northern Ireland will pay the full rate.
But Plaid Cymru's education spokesman Simon Thomas claimed Education Minister Leighton Andrews had not expected so many universities to go for the maximum fees.
"This is a very high risk strategy for some of these institutions and indeed it is a risk for the government," he said.
"The minister gave a personal commitment regarding the sustainability of this pledge and we have to question whether it is financially affordable.
"People will rightly ask why the minister is content for universities in Wales to charge £9,000 today when he had previously been opposed to maximum."
'Not acceptable'
Mr Andrews said it had been a robust process but he expected the performance of universities to be monitored.
First Minister Carwyn Jones said the government was confident it could pay for the tuition fees policy
The National Union of Students in Wales added to criticism of the approvals saying they were "not acceptable".
President Luke Young said: "This is a sad day for future students in Wales. It is not acceptable to charge £9,000 per year for the right to an education.
"It is now more important than ever that the Welsh Government keeps its promises to Welsh students and protects them from further debt well into the future.
"There is no doubt that students will demand full transparency about the additional investments from their fees and expect the quality of education to be protected and enhanced."
But the universities defended their decisions to charge £9,000.
Swansea University vice-chancellor Prof Richard Davies said his university needed to be able to charge the full amount to maintain its high standards.
"Swansea University provides a high quality, supportive campus environment for students.
"We focus on life-enhancing and career-enhancing courses with teaching by acknowledged experts in their fields. We will now be able to continue to offer an excellent academic student experience.
Cardiff University, Bangor, Aberystwyth, Glamorgan, Newport, Uwic, Trinity Saint David will also charge £9,000 a year for some or all courses.
Swansea Metropolitan will charge just short of the maximum while Wrexham's Glyndŵr University has an average fee of £6,643 for full-time undergraduate degrees.
Vice-chancellor Prof Michael Scott said: "We are not seeking the highest fees to replace teaching grants into the university, we are seeking to continue to do the best thing for our students and community."
Newport vice chancellor Dr Peter Noyes said his university had a "terrific track record" in taking increasing numbers of students from disadvantaged areas of the Gwent valleys, but universities now needed to work hard to dispel the myths of the new system and ensure people were not put off university.
"When we first submitted the fee plan, we made it very clear that the University had considered every single option available to us," he said.
"Increasing the cost of study for our future students is not something we do with any relish, but is the only option available to us in the situation that we find ourselves in."