Estyn calls for more support for disadvantaged children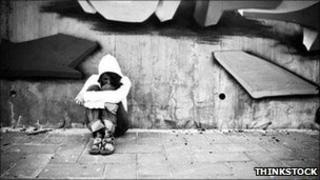 Schools need to give more support to disadvantaged pupils, according to inspectors in Wales.
Education body Estyn wants schools to target support at children from poor backgrounds, even if they are achieving above average results.
The report calls for a more "systematic approach" to identifying, tracking and monitoring disadvantaged children.
A Welsh Government spokesperson said the education minister was committed to raising standards across the board.
Chief inspector Ann Keane said poverty is the "biggest obstacle" to a good education.
"We know that learners from poorer backgrounds are more likely to have a negative attitude towards school and to have lower expectations about what education can help them to achieve," she said.
"In the best few examples, schools plan a range of activities that are carefully designed to increase learners' confidence, motivation and self-esteem."
'Often harder'
Disadvantaged children include those from low income families, travellers and children in care.
Most schools use a child's eligibility for free school meals as an indicator of disadvantage. But Estyn says many schools do not have good enough systems to identify individual needs.
Adding that poverty affects one in three children and young people in Wales, Ms Keane said: "Learners from poorer families or who are in care are more likely to attain at lower levels than other learners.
"As a result it is often harder for these learners to gain high-skilled employment or continue their education," she said.
Estyn's report stresses the importance of working with the local community to tackle the effects of socio-economic disadvantage.
It highlights the success of Blaengwawr primary school in Rhondda Cynon Taf, which has "steadily narrowed the gap" between the performance of pupils eligible for free school meals and those who are not over the last three years.
'Improve relationships'
Approximately 34% of the school's pupils are eligible for free school meals.
The school encourages pupils to work with elderly people at a residential care home on local history, literacy and creative projects, to strengthen links with the community.
Pupils also meet residents once a week for a skill-sharing exercise.
Head teacher Imogen Baker said: "It gives them a sense of belonging. They're doing something to improve relationships with their community.
"It gives them something to aspire to and makes them want to learn. It gives them purpose and respect for older people in the community."
Estyn inspectors found that although nearly all schools see themselves as community focused, "there is no common understanding of what this means".
A Welsh Government spokesperson said: "The minister has made a commitment to raising standards in Wales across the board.
"The key to this is improving levels of literacy and numeracy and breaking the link between poverty and poor attainment," said the spokesperson.
The spokesperson said a new school effectiveness grant for 2011-2012 will enable schools and local authorities to address priorities, which include "tackling the impact of poverty on learning".