Sir Anthony Hopkins' waltz premiered by Andre Rieu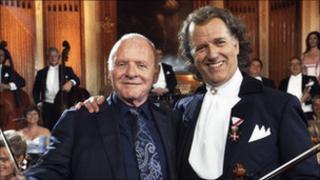 A waltz composed by Oscar-winning actor Sir Anthony Hopkins has been given its world premiere in Austria, the home of that style of dance music.
Hollywood-based Sir Anthony, from Port Talbot, flew to Vienna for the first performance of And the waltz goes on.
The star, who has written music for many years, said the piece was written for the Dutch violinist André Rieu.
"It's a dream come true for me that André performed it with his orchestra," he said.
A spokesperson for Rieu said he was so enthusiastic about the work that he immediately set plans in motion to record it.
'Same dream'
"I've been a great admirer of André Rieu for several years," explained Sir Anthony. "He's a great musician.
"My wife and I had the same dream of meeting him one day, so I've sent him some music that I wrote."
The 73-year-old actor said he was "totally knocked out" by the result.
"It's even more than I expected," he said.
The waltz will be included on Rieu's next album and will be performed at concerts in his hometown of Maastricht.
Sir Anthony will be there when Rieu and the Johann Strauss Orchestra perform his waltz at the Vrijthof Square concert.
Original scores
The Silence of the Lambs star is due to showcase his talent as a composer at a concert in Cardiff later this month.
He will present several original scores, including music from his own movies August and Slipstream, plus brand new piece written for the City of Birmingham Symphony Orchestra (CBSO) at the St David's Hall concert.
He will also appear onstage talking about his music and creative process.
The 24 July date is part of a UK tour.