Ofcom map shows Wales' poor broadband provision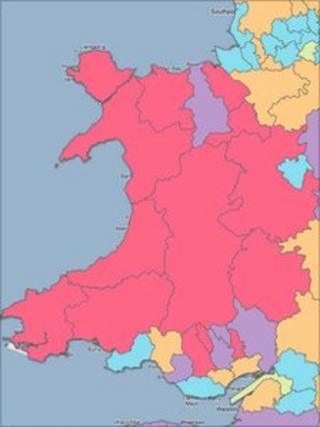 Much of Wales has the worst broadband provision in the UK, according to a new interactive map by Ofcom.
The communications regulator created the clickable map to allow users to check the take-up and speed of broadband in their area.
The map shows 12 county council areas in Wales - mostly rural and in the north, mid and west - had the lowest overall score for broadband provision.
But the Welsh Government said it had a strong record of providing broadband.
The clickable map, which forms part of the Communications Infrastructure Report, was compiled using data collected from communication providers.
It allows users to zoom in and out of 200 administrative authorities across the UK, providing a range of data to offer a picture of broadband provision in each area.
Areas are graded from one to five, with five showing the poorest overall broadband provision in terms of the percentage of addresses which are within the coverage area of superfast broadband networks, average broadband take-up, average actual speeds and the percentage of homes with broadband currently not receiving 2Mbit/s speeds.
Each area on the map is colour coded with green ranking highest, and red lowest. The differnt categories have also been combined to produce an overall view of broadband in different parts of the UK.
Twelve local authorities in Wales were given the lowest overall score of five: Torfaen, Wrexham, Conwy, Gwynedd, Merthyr Tydfil, Powys, Rhondda Cynon Taf, Pembrokeshire, Ceredigion, Carmarthenshire, Flintshire and the Isle of Anglesey.
Wales has an average speed of 6.5 Mbit/s, compared to a UK average of 7.5. It also has only 31% superfast availability, whereas England has an average of 61%, Scotland has 41% and Northern Ireland has 97%.
Ofcom hopes that the data will be useful to local authorities as they bid for money to bring faster services to their areas.
Superfast networks
The UK government has set a target of making the it the best place for broadband in Europe by 2015.
Both BT and Virgin are expanding their superfast broadband networks and £830m of extra UK government money has been made available to stimulate roll-out to areas that might otherwise be considered not economically viable.
Rhodri Williams, Ofcom's director in Wales, said delivering higher speed broadband services to consumers in many parts of rural Wales was not easy.
"This is one of the reasons the Welsh Government has intervened and are in the process of implementing two programmes that will hopefully help to ensure that the picture in Wales improves," he said.
"Firstly, the broadband support scheme provides funding to support those who either have no service at all or a slow service, with speeds up to 2Mbit/s.
"Secondly, a procurement process is already underway to bring high speed services to those parts of Wales that will not be provided for by commercial operators."
Ofcom is required to submit a report on the UK's communications infrastructure to the secretary of state for culture, media and sport every three years.
A Welsh Government spokesperson said: "The Welsh Government has a strong track record of investing to increase the availability and take-up of broadband in Wales.
"Our Broadband Support Scheme is addressing basic connectivity issues for individuals and entire communities.
"Work is also underway to bring high speed broadband to every home and business in Wales by 2015, which will ensure that everyone is able to benefit from the many advantages offered by broadband access into the future."