Wales's grass fires started by bored youths says report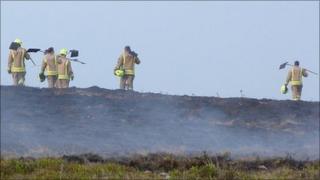 Bored youngsters are being blamed for starting thousands of forest and grass fires in south Wales in a new report.
Wildfires in Wales, by the Forestry Commission, calls for closer ties between councils, fire services and communities to change attitudes.
The report found there were more than 55,000 grass and almost 550 forest fires in south Wales between 2000 and 2008.
Hundreds more, many deliberate, were tackled this April and May in Wales.
One blaze destroyed an important wildlife habitat in the Brecon Beacons National Park.
South Wales is the worst place in the UK for the fires, but many people questioned claimed they were not a problem, the report said.
The 107-page document, funded by the Forestry Commission, South Wales Fire and Rescue Service and Mid and West Wales Fire and Rescue Service, was written by social scientist Matthew Jollands, and Jake Morris and Andy Moffat, over two years.
It identifies what provokes a person to commit arson, and the type of people involved.
According to the report, the main reasons for starting wild fires are:
Boredom
Socio-economic factors
Acts of rebellion or "as part of associated criminality"
"For fun"
As a method of land clearance
Mental illness.
More than 1,000 residents in south Wales were surveyed.
Sixty five per cent believed wild fires were deliberately started, with young people seen as the main culprits, though farmers or land owners were more likely to be blamed in south west Wales, the report said.
But only 33% of those questioned felt the region had a problem and fewer still (18%) believed wild fires were a problem in their area.
The report said incidents followed a predictable pattern, and 20% of the most deprived areas of south Wales were nine times more likely to suffer than the 20% least deprived areas, with the Rhondda and Afan Valleys most prone to wild fire arson.
Recognising the motives was essential to finding a solution and should be seen as part of broader issues around deprivation and a lack of investment, the report said.
The report claims wild fires costs South Wales Fire and Rescue Service £7m every year to fight.
Peter Cloke, Forestry Commission Wales deputy district manager in south Wales, said: "Deliberately started forest fires cost millions of pounds to tackle, blight huge areas of the landscape and put lives at risk every year.
"By identifying the causes and understanding why people commit these wanton acts of destruction, we hope to work better with local authorities, the fire and rescue services and community groups to design effective policies to reduce the incidence of wildfire arson."
The report recommends awareness should be increased, while preventative measures should focus on areas of high incidence.
The Welsh Government said it recognised the negative social, economic and environmental impact of deliberate grass and forest fires in its arson reduction strategy of 2007, and it supports initiatives and activities to help reduce the problem.