MPs told broadband lack 'barrier' to Welsh business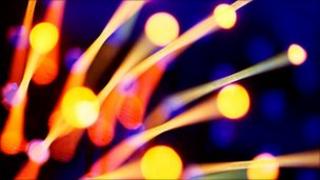 A lack of broadband is the "chief barrier" to companies seeking to set up in rural Wales, a countryside business leader has told an MPs' inquiry.
Ben Underwood, director of the Country Land and Business Association in Wales, also criticised the Welsh Government's broadband targets as unrealistic.
British Telecom, Virgin and FibreSpeed also gave evidence, but disagreed over how to tackle broadband "not-spots".
The Welsh Government said it planned to introduce high speed broadband by 2015.
The criticism follows a decision by the Welsh Government to extend a scheme to help rural communities tackle broadband "not-spots".
Its broadband improvement project offers up to £1,000 to buy an alternative if they only have a dial-up-speed connection.
The £2m scheme will target areas with better connectivity but less than two 2Mbps (megabits per second).
Mr Underwood and others, including the National Farmers' Union (NFU), were giving evidence at the Broadband in Wales Inquiry, which is being conducted by the Welsh Affairs Select Committee.
Huw Thomas of NFU Cymru told MPs that a lack of broadband was causing real difficulties for farmers, who were having to complete more of their paper work online.
He cited an example of one farmer who could not receive broadband but his son, who lived 200 yards away (182m), could.
Mr Thomas also criticised the Welsh Government's broadband scheme.
Mr Thomas said: "There is a feeling that the scheme announced by Welsh Government a year or so ago wasn't as well publicised as it should have been." He added that as a result many were not aware grants were available.
Mr Underwood claimed the Welsh Government's broadband targets were unrealistic, and that its vision was "short-term thinking".
He said: "Broadband is becoming the chief barrier to businesses when attempting to set up in rural parts of Wales."
The Country Land and Business Association (CLA) also submitted written evidence to the inquiry. It said: "Broadband is vital to the rural economy and to the well-being of rural communities.
"However, there continues to be a rural-urban digital divide and this is exacerbated by government policy to digitalise most forms of administration.
'Many advantages'
"The CLA is disappointed at the apparent lack of progress in implementing the government's broadband strategy and in particular, the delays that are hindering the announced super fast broadband pilots."
In their evidence, BT, Virgin and FibreSpeed disagreed over how to tackle Wales' broadband "notspots".
Ann Beynon of BT insisted the Welsh Government's investment should be in fibre technology, but Graham Leach of north Wales public-private telcoms partnership Fibre Speed said there should be investment in both wireless and fibre.
The Welsh Government said it had a strong track record of investing to increase the availability and take-up of broadband in Wales.
A spokeswoman said: "Our Broadband Support Scheme is addressing basic connectivity issues for individuals and entire communities.
"Work is also underway to bring high speed broadband to every home and business in Wales by 2015, which will ensure that everyone is able to benefit from the many advantages offered by broadband access into the future."