Royal Mail's Wales safety drive after 216 dog attacks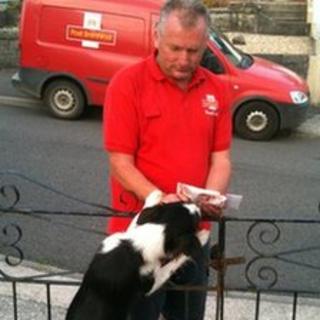 The Royal Mail in Wales is targeting dog owners with a safety campaign, after more than 200 of its workers were injured in the past year.
The dog attacks also resulted in 352 days of sick leave in the same period.
The campaign is being launched in Swansea, which had the second highest number of attacks.
Most owners are described as very responsible, but all are being urged to ensure that they keep their animals under control.
One postman, Wayne Davies, told how his hand was bitten by a dog a month ago in Clydach.
Mr Davies, said the dog, which is usually kept inside, rushed out when the owner opened a door.
"I decided to try and get into the van as quickly as possible, but he jumped for my hand as I grabbed the door handle," said the postman.
"He was hanging off my hand, there was blood everywhere... I was in shock," he added.
After a trip to hospital the wound was bandaged and Mr Davies was given light duties to do at work, but said he decided to take leave so that his hand could heal.
"I was really, really, scared and in the 10 years I've been a postman it is the worse thing by far that has happened to me," he added.
Mr Davies said he wanted owners think before leaving doors open, and pets free, during the school holidays.
"For some reason some dogs go ballistic when they see a postman, I don't know if it's the uniform or the red colour of the bag," he said.
In Wales more than 216 postmen and women were attacked by dogs in the past year, while across the UK as a whole there were 4,200 dog attacks resulting in 4,098 days off.
Even if the postman or woman is not bitten roaming dogs are a problem, according to Swansea delivery office manager Darran Dyke.
"We have had a few near misses with dog menacing, where dogs either wandering in the street or unleashed in the owners' garden, have intimidated our delivery postmen," he said.
Royal Mail Regional safety director Michael Shakeshaft said the majority of dog owners were very responsible.
"But dog bites are still a major cause of injury to our postmen and women and the effects can cause considerable distress to those concerned," he added.