High Street trade ignored by AMs, say business bosses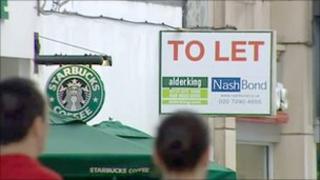 High Streets in Wales need a plan to help small shops through their economic difficulties, says a business group.
The Federation of Small Businesses in Wales (FSB) said ministers must draw up a retail strategy to support traders.
It wants supermarket schemes to include a study on their effect on local stores and for shopping developments to subsidise space for smaller outlets.
The Welsh Government said discussions with the business organisation were under way.
The FSB said its 10,000 members in Wales had been ignored as an area for active business support despite small traders being a cornerstone of local economies.
Small retailers provide an environmentally beneficial service to communities and contribute to the health of other businesses, such as tourism, it said.
The organisation said that before May's assembly elections, politicians had signed up to the idea of "keeping trade local" and those pledges must now be made real with a retail strategy.
Level playing field
It is calling for:
• Compulsorily independent retail impact assessments on all supermarket developments
• Affordable or subsidised retail units to be a condition of new shopping developments
• A business crime unit for Wales
• More powers for planning authorities to hold off large developments and to preserve small local firms
• Town centre business rates to be affordable so High Streets can compete against out-of-town retail parks
FSB Wales chair Janet Jones said: "All we want is a level playing field for small businesses.
"These policies clearly resonated with the parties before the election and as we hear every day of further High Street struggles we need a clear vision now of how we can help the sector survive and flourish.
"What is important is that the commitments that the parties made pre-election on other issues that impact on small and medium-sized enterprises and our town centres are also acted upon."
Nigel Evans, joint owner of Starvin' Jacks, a coffee shop and diner with three outlets in Swansea, backed the FSB call.
He told Radio Wales: "The biggest impact on us as a city in Swansea is out-of-town shopping. We have one of the highest concentrations in the UK. And the big advantage they have is free car parking.
"We've not taken the leadership of putting restrictions on planning. There is a place for out-of-town shopping, but in my view that's for large white goods where it's easy for the customer to drive up and get them."
Nicole Burnett, co-owner of Happy Days, a vintage homestore and artisan market in Cowbridge, Vale of Glamorgan, said up to 10% of her turnover went on business rates.
She said: "It is a lot and it's empty money. It's dead money. You just pay it out to the council and get nothing back in return."
A Welsh Government spokesperson said: "The minister has met with the FSB recently and had initial discussions around the issues they are raising."