Japan plan threatens 140 jobs at Panasonic, Cardiff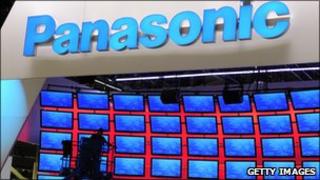 Almost 140 jobs could be lost from Panasonic in Cardiff under plans to transfer work to Japan.
The electronics giant said it was exploring options to move work from its television design centre in Cardiff as part of restructuring worldwide.
The company said it is likely to have a significant impact on the centre's 138 employees if the transfer goes ahead.
Unions said the plans were "complete surprise", but a business expert thinks it could safeguard future jobs.
Panasonic said: "The potential transfer of these business functions will help ensure that Panasonic's European television business will remain competitive while delivering high quality with a lower competitive product cost.
"If this consolidation goes ahead, it is likely to have a significant impact on the 138 employees who work within the television design centre and, potentially, some shared service support functions.
"A period of consultation is now under way."
Panasonic Manufacturing employs more than 530 permanent staff in four business units in Cardiff.
'Clarify their proposals'
Mervyn Burnett of the GMB union said: "This has come as a complete surprise to us.
"I will be seeking urgent talks with the company to find out why they are transferring jobs from Wales to Japan and what can be done to mitigate the job losses."
A Welsh Government spokesperson said: "It is disappointing that Panasonic is considering moving these jobs from Cardiff.
"We will be in close contact with the company to clarify their proposals."
Dr Andrew Crawley, from Cardiff Business School, said the wider picture was that Panasonic announced in April that around 13,000 jobs were to go worldwide as part of a two-year restructuring operation.
"These are the types of jobs the Welsh Government and CBI in industry really want to keep.
"These are the jobs that add extra money, extra skills to the Welsh economy which help us with our productivity and keep the economy ticking over.
"In the short run this is bad news, we're losing jobs here. But if this is a genuine restructuring, it could be safeguarding jobs in Wales for the future ahead.
"Yes it is an anchor company, it's high-skilled labour. If other companies are seeing we have this presence here, they are going to be more attracted to the area."