Western Mail and South Wales Echo end street sales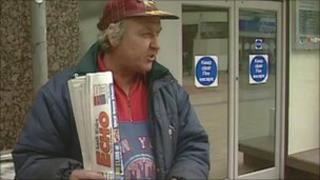 Two of the biggest newspapers in Wales, the Western Mail and South Wales Echo, have stopped selling in the street.
Owner Media Wales has announced it will no longer employ vendors in Cardiff city centre.
Consultations were under way with seven staff, it said.
The firm said it was exploring new methods to "increase the profile and presence of its newspaper titles in Cardiff city centre".
The move by Media Wales, part of the Trinity Mirror group, ends a decades-old tradition of selling copies of the Western Mail and South Wales Echo to passers-by.
Media commentator Roy Greenslade, a former editor of the Daily Mirror, said the loss of Cardiff's newspaper street vendors was "sad but inevitable in the circumstances".
He said: "It's the way of the world.
"Distribution is one of the most expensive parts of the costs of producing newspapers.
"And it's natural enough in such circumstances that you drive down and reduce costs where you can.
"I imagine that they have done a cost analysis and they were not selling enough copies to warrant paying their vendors.
"There are so many business model problems. This is just one of them. The great thing about online is you don't need vendors."
Steve Hewlett, presenter of BBC Radio 4's Media Show, said: "Most people don't get their news from newspapers any longer. The traditional newspaper is being undermined by all sorts of things."
In addition to the two Cardiff-based titles, Media Wales also publishes titles serving communities in the south Wales valleys.
They are the Merthyr Express, Rhymney Valley Express, Gwent Gazette, Pontypridd Observer, Rhondda Leader, Glamorgan Gazette and Cynon Valley Leader.
Media Wales closed two of its papers in 2009: the Neath and Port Talbot Guardians.