Royals end Wales visit with bara brith ice cream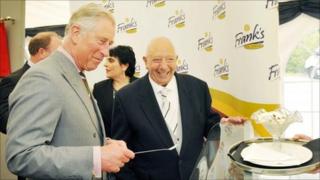 Prince Charles and the Duchess of Cornwall have ended their annual visit to Wales with a tasting of a specially-produced bara brith ice cream.
The special flavour was created to tempt the royal tastebuds during the tour of Frank's Ice Cream, near Ammanford, Carmarthenshire.
Charles is known to enjoy a buttered slice of bara brith - the traditional Welsh treat of fruited loaf.
He ended his week-long tour with a cool box full of the ice cream version.
A bodyguard was seen heaving a large box of it into the prince's chauffeur-driven Jaguar moments before he left.
But the prince appeared to prefer another type of ice cream he tried during the hour-long visit.
"Before I go I just want to say how thrilled I have been to have this brief opportunity to visit Frank's ice cream emporium," said the prince.
He added: "I shall leave here now having discovered a brand new experience which is clotted cream ice-cream. I think that that deserves an award."
As he left the prince was presented with a solid silver ice cream scoop specially made by jeweller Mari Thomas.
"Fantastic," said the prince, as he took it out of the presentation box. "It will also double as a tie-pin," he joked, holding up in front of his shirt.
Lifetime's supply
Frank's Ice Cream has sales across the UK and abroad and has recently expanded.
Joe Dallavalle, 85, who headed the firm for 40 years, said: "We didn't know even if he likes ice cream but everyone knows he likes bara brith so we created a new flavour," he said.
"I don't know if liked it, but if he did he can certainly have a lifetime's supply for free. Why not, he is royalty."
Earlier, the royal couple visited a farm shop in Carmarthenshire.
They started the day at a dairy farm in Mynddygarreg near Kidwelly to discuss the sustainability of cattle farming in the region.
They were also taken to the Cwmcerrig Farm in Gorslas where the Watkins family have invested £900,000 in building a farm shop and grill on the site.
Dairy Crest coordinated four short dairying workshops run by independent experts, which were showcased during the couple's visit to Fferm y Garreg in Mynddygarreg.