Charles and Camilla open Llandovery railway station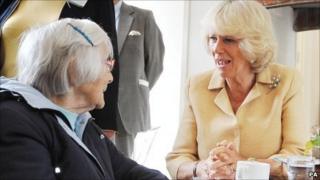 A woman dropping an elderly friend off at a rural railway station unexpectedly found herself chatting to Prince Charles and the Duchess of Cornwall.
The couple were visiting the newly refurbished Llandovery station, which had been closed for nearly 20 years, on the fourth day of their tour of Wales.
They spoke with Eva Ryan, who had known nothing of their visit.
She said later that had she realised she would not have worn her shredded jeans and wellies.
"I had no idea what was going on today when I got here," said Ms Ryan, 41, from Taliaris, Carmarthenshire.
"It's a bit surreal," she added.
However, many in Llandovery were aware of the visit, including the town's eldest resident Mary Bennett, aged 101.
Another onlooker was Patagonian exchange student Augustina Tora, who grew up in South America speaking Spanish and Welsh.
She is attached to Ysgol Rhys Prichard, the local primary school, whose pupils turned out in traditional Welsh costume to greet the royals.
"For me it is something unbelievable to be here," she said.
"Something like this for me makes a really really big day."
As the royal party unveiled the plaque marking their visit, a single-carriage train drew up at the station.
A small handful of stunned passengers peered out through its windows in disbelief at a view they were obviously not expecting.
The station is near the royal couple's Carmarthenshire home.
The railway first came to the town in 1858, but the station building was closed in 1992.
Waiting room
More than £90,000 was raised by local volunteers and it now boasts a new waiting room, café and a display of historic local artefacts.
The volunteers started their refurbishment project by setting up the Heart of Wales Line Development Company.
Working with the rail industry, local authorities, the Railway Heritage Trust and others, the company has signed a 25-year lease on the interior of the building.
"I can hardly believe it's actually finished," said Gill Wright, chair of the development company.
"We knew that we were taking on a major piece of work, but didn't realise the complexity of all the legal and procedural arrangements we would encounter.
"We've all learned a lot and our plans are to use this experience to spearhead more development work along the Heart of Wales Line."
On Wednesday, the royal couple visited a new Macmillan Cancer information and support centre within The Bracken Trust in Powys.
Earlier they visited Bacheldre Mill at Churchstoke, near Montgomery.
It supplies flour and bread to the prince's households in Highgrove in Gloucestershire, and Llwynywermod, Carmarthenshire.
The couple also met carpet restorer David Bamford in Presteigne, Powys.