Shelter Cymru: 'People cutting back on food and heat'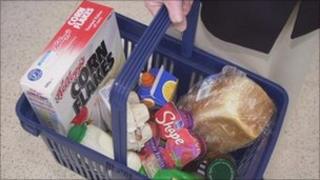 More people in Wales are having to cut back on what they spend on food and heating to meet their housing costs, according to a charity.
A Shelter Cymru survey said 21% of respondents were spending less on heating, and 28% had cut back on food to meet rent or mortgage payments.
The charity said the core problem was a lack of affordable homes.
Meanwhile First Minister Carwyn Jones blamed a rise in Welsh homelessness in the last year on UK government cuts.
The survey of over 1,000 Welsh adults was carried out online for Shelter Cymru by YouGov at the start of June.
It has published the findings as thousands of public sector workers including many teachers are due to strike over cuts to pay and pensions.
Shelter Cymru director John Puzey said: "These are very disturbing findings and clearly show that a lot of people from all sectors are finding it increasingly difficult to manage the costs of day-to-day living.
"It is one thing to tighten our belts and forego a few luxuries when money is short, but it is quite another thing altogether for people to have to cut back on essentials such as food and heating in order to pay the rent or mortgage."
He said that further changes to welfare benefits, greater pressure on the job market and wages that fail to keep pace with the cost of living would only exacerbate this situation.
"The challenges facing us are immense and given that the public spending cuts are something over which we in Wales have very little control, we need to be imaginative in how we mitigate the worst effects and address the core problem of the shortage of affordable homes," he said.
'Prolonged economic crisis'
The Welsh Government said latest official figures showed that homelessness had increased over the last year.
During the first three months of 2011, 1,655 households in Wales were accepted as homeless - an increase of 13% on the same quarter of 2010, it said.
In a speech to Shelter Cymru's summer conference on Thursday, First Minister Carwyn Jones is expected to blame this on the UK government's economic and welfare reforms.
Mr Jones will tell the conference: "There is disturbing evidence that homelessness levels in Wales have increased as a result of the prolonged economic crisis. However, I believe the UK Government's regressive economic and welfare reform policies are making the situation worse.
The first minister will say he is particularly concerned about the impact of the changes on those with disabilities or long term health problems, and on people with child care responsibilities.
The Wales Office said it was disappointing that the first minister was "once again" seeking confrontation rather than co-operation with the UK government.
2We've repeatedly stressed that by working together the UK and Welsh Governments can jointly tackle the economic and social problems facing Wales today," a spokesman said.
"This government has embarked on the biggest change to the welfare system for more than 60 years."
The Shelter Cymru conference comes in the week Richard Banks, the chief executive of UKAR (UK Asset Resolution), predicted "a tsunami" of home repossessions unless lenders prepared them for the impact of higher rates.