Powys cancer centre visit for royal couple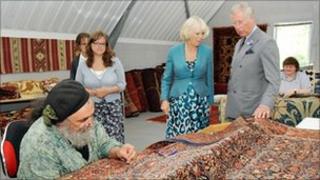 Prince Charles and the Duchess of Cornwall have visited a Powys cancer centre as part of their week-long visit to Wales.
It included a tour of a new Macmillan Cancer information and support centre within The Bracken Trust.
Earlier they visited Bacheldre Mill at Churchstoke in Powys.
It supplies flour and bread to the prince's households in Highgrove in Gloucestershire, and Llwynywermod, Carmarthenshire.
The couple also met carpet restorers and visited a marquetry business.
David Bamford in Presteigne repairs, conserves and recreates classic design hand-woven carpets.
He showed the royal couple around an exhibition of work which included a huge Persian rug that used to belong to Winston Churchill.
The company is making a replica for the National Trust to be used at Chartwell so the original can be set aside for posterity.
Later the prince and duchess moved on to Llandrindod Wells where they turned their hands to marquetry.
The couple were provided with scalpels and set about working in one of Aryma's specialist studios.
"I'd better get my specs on if it requires a knife," the duchess said, as she sat with her husband working on a project.
It is the third day of the prince's annual week-long tour of Wales.
Volunteers
"The new services mean that patients and their families can access good quality information and support closer to home, without having to travel long distances," said Cath Lindley, general manager for Macmillan Cancer Support in Wales ahead of the royal visit to the Powys cancer centre.
Reg Cawthorne, chairman of the Bracken Trust, added: "We see the visit as recognition of the care and support which has been provided by volunteers and staff over the last fifteen years, by the trust, to a large number of patients."
On Tuesday, the duchess opened the first phase of The Cardiff Story museum, which is dedicated to the city's history.
There was also a reception for young people and business supporters of The Prince's Trust at the prince's Llwynywermod home.
The annual royal week in Wales began with a visit to the seaside at Aberdyfi in Gwynedd.