MMR vaccination call after Ceredigion measles outbreak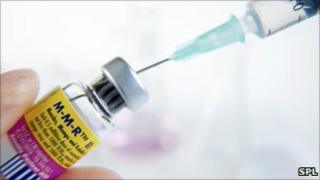 Parents are being urged to get their children vaccinated immediately following an increase in measles cases in Wales.
An outbreak has been reported in Ceredigion, say health officials.
Further possible cases are being investigated in Pembrokeshire, Neath Port Talbot, Swansea, Carmarthen, Powys and the old Gwent area.
Measles can cause complications, particularly in children under five years, and can be fatal.
There are said to be 10 cases in the Ceredigion outbreak and another 20 elsewhere.
Dr Roland Salmon, regional epidemiologist for Public Health Wales, said many of the cases under investigation had not received their scheduled vaccinations.
"We are urging parents throughout Wales who have not arranged immunisation for their children to act immediately to get them vaccinated," he said.
Red eyes
Dr Richard Roberts, head of the vaccine preventable disease programme run by Public Health Wales, said MMR was a "safe and effective vaccine" that protected children from the most severe viral rash illness of childhood.
He explained that the only way to prevent outbreaks of measles was to ensure that at least 95% of children in Wales had received two doses of the MMR vaccine.
The latest MMR uptake figures for January to March 2011 showed that in Wales, 87% of children reaching their fifth birthday had received two doses of the MMR vaccine. Coverage ranged from 82% to 94%.
Last week, it was reported that 90% of two-year-old children in the UK had received their first dose of the MMR vaccine - the highest level for 13 years, said the Health Protection Agency.
Children should receive their first dose of the vaccine at 12 to 13 months of age and the second at around three years and four months of age.
Blotchy rash
Public Health Wales said it was never too late to catch up on missed doses.
Many people who catch measles will have a fever, cough, red eyes and blocked nose, and feel generally unwell.
The blotchy rash appears a few days later, beginning on the face and spreading downwards to the rest of the body over several days.
Dr Roberts added: "If your child is unwell and you suspect it is measles, you should contact your GP. Your child should not attend school or nursery for five days after the rash starts."
More information about measles is available from the Public Health Wales website.