Archdruid's 2012 Olympic Welsh flag demand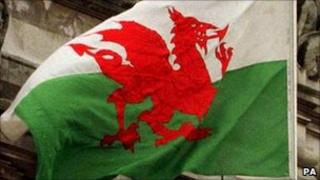 The Archdruid of Wales wants the Welsh flag to be raised for Welsh medal winners at the 2012 London Olympics.
T James Jones has also called for the Welsh national anthem to be played instead of God Save The Queen.
At a speech marking the visit of the National Eisteddfod to Barry next year he said "Britishness" was endangering Welsh identity.
Welsh Conservative MP David Davies said he was "talking rubbish" as most Welsh people were proud to be British too.
Mr Jones - who was installed as Archdruid of Wales as part of National Eisteddfod ceremonies in Wrexham last year - made the speech - at a proclamation ceremony in Barry.
He said: "Since Eisteddfod Bro Morgannwg will be held at the same time as the Olympic Games, in addition to honouring all the eisteddfod winners we will also be rejoicing in the success of Welsh medal winners at the games.
"I call upon Welsh institutions . . . to urge the Olympic Games Authority to raise the Welsh Dragon, not the Union Jack, above individual Welsh medal winners, and to honour Welsh gold medal winners by playing Hen Wlad Fy Nhadau" [the Welsh National Anthem].
"I welcome other nations to join us in this aspiration, from Scotland to Cornwall, from Brittany to the Basque country and Catalonia, and indeed all the nations of the world that are fighting to retain their identity," he added.
He also used the speech to criticise the building of a military training academy at St Athan near Barry.
But Monmouthshire MP Mr Davies said Mr Jones was out of step with the majority of people in Wales.
"Only a tiny minority in Wales will agree with the Archdruid, who in my view is talking rubbish," he said.
"Most people are proud to be Welsh, but proud to be British too.
"There is a time to sing Hen Wlad Fy Nhadau and many of us do so with gusto at rugby matches.
"But at the Olympic Games, Welsh athletes will be representing Great Britain, and the appropriate anthem is God Save The Queen."