Horses cornered in Cardiff's Victoria Park tennis court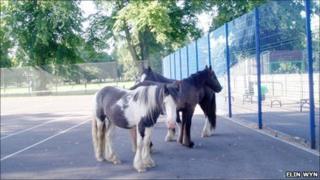 A tennis court in a Cardiff park has been used to corral four horses on the loose in city suburbs on Monday.
Police were called to deal with the animals in the Ely Bridge and Victoria Park areas at around 0700 BST.
The horses were moved to Victoria Park where they were held on a tennis court.
Elin Wyn, who spotted the four as she was walking her dog in the park, said: "I thought it was quite funny that they were in the tennis courts when it's Wimbledon week."
Police contacted the local authority to have the horses taken away, although the animal's owner was contacted.
Media consultant Ms Wyn was in the park at around 0730 BST with her four-year-old chocolate Labrador, Pero, when she saw the horses.
She said: "They were very calm and quiet. They were lovely horses.
"It's the second time they've been there. Last time there was bit of commotion. They let them wander around and they shut the front gates.
"This time they decided to put them in the tennis courts."
A Cardiff council spokesperson said: "This morning four stray horses entered Victoria Park.
"With the help of the police, the council's parks staff were able to safely round the horses up and guide them into the tennis court area which contained them until the horse pound arrived to collect them.
"The incident was dealt with quickly and safely, and there was no need to close the park."
In March, five horses escaped from their fields in Ely and ended up grazing in the same park.