Cardiff health board trial 'cuts missed appointments'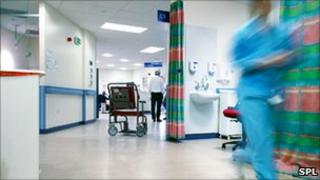 A trial booking system for hospital outpatient appointments is cutting the number of people who fail to turn up by 40%, claims a health board.
Cardiff and Vale University Health Board is testing a scheme that makes an automated call to patients to check they plan to make their appointment.
The health board provides some 600,000 outpatient appointments each year.
It says people who fail to turn up to appointments with hospital doctors cost it up to £3m per year.
The trust is three months in to a four-month trial of the booking system aimed at reducing the number of appointments wasted because people fail to turn up.
Each missed appointment is classed as a Did Not Attend (DNA) and is estimated to cost the NHS £50 on average.
'Reminder'
The secure automated call in the trial booking system reminds people of their appointment and asks them to confirm they are able to attend.
Those that cannot attend are given the option to cancel or rearrange their appointment. Older patients receive a call from a trained agent caller.
Matt Temby, the health board's patient admin and outpatients directorate manager, said the results of the pilot project would be analysed against a control group for an accurate picture of how effective the service had been.
He said: "Patients are telling us that they are finding the service very useful and are grateful for the reminder."